The 2018 Rotarian Photo Contest
Show Us Your Best Shot
Do you have a great shot from a club project or fundraiser? Did you capture a memorable moment at the convention or during an international trip? Enter your images in The Rotarian's 2018 photo contest and you might see them in the pages of the magazine. You may enter up to three photos taken since 1 January 2017. While some photos might have elements of all three, select one category to enter your photo. Our previous guest judges have included Pulitzer Prize-winning photographer David Hume Kennerly, Kathy Ryan, director of photography for the New York Times Magazine and photojournalist Steve McCurry. This year's judge will be announced soon.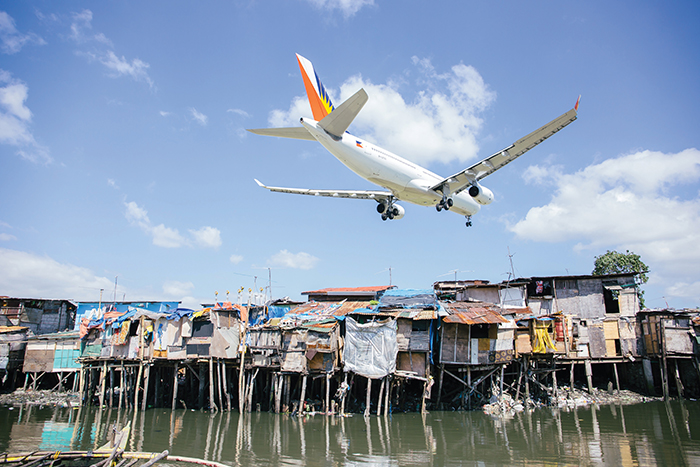 Deadline
15 February 2018
Prize
Winning photographs will be featured in the June 2018 issue of The Rotarian Magazine.
Past Winners
Looking for inspiration? Check out winning photographs from the 2017 awards.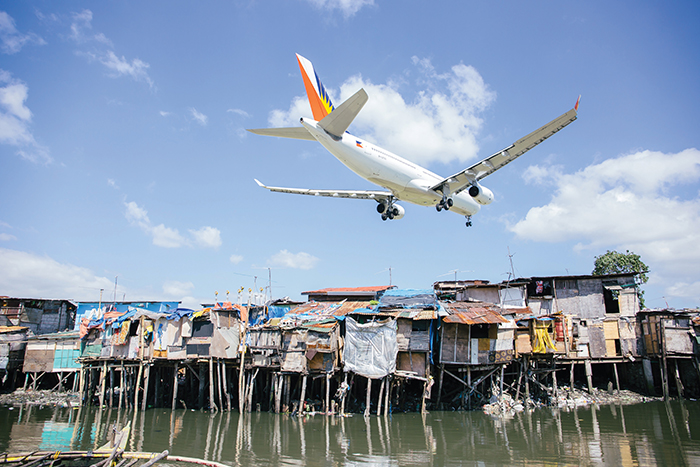 2017 First Place
Chun-Ta Lin, Rotary E-Club of District 3490, Taiwan
"This photograph gives us a powerful visual juxtaposition that tells a story about society. Below, the people are poor, they're desperate, they're living in this precarious way. Above, people are jetting from place to place, on vacation, flying to meetings. The image makes us reflect on what it must be like to live there, with the jet noise a constant reminder of that social inequality, and it does that visually with the contrast of above and below" - Steve McCurry, photo contest judge.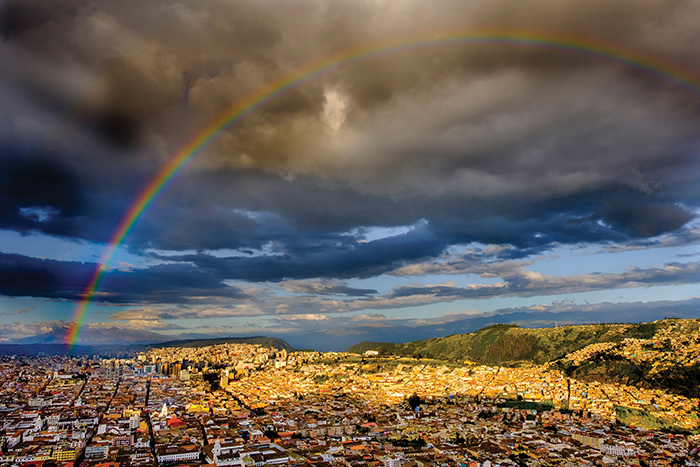 2017 Second Place
Scot Sargeant Rotary E-Club of San Diego Global, California, USA
"Here's a familiar subject, a rainbow, but with an unusual twist. The dark, dramatic sky gives way to the blue sky, and then the wonderful light hitting this town. We know rainbow photos, but this one gives us the contrast of the ominous dark top and the glowing light on the city" - Steve McCurry, photo contest judge.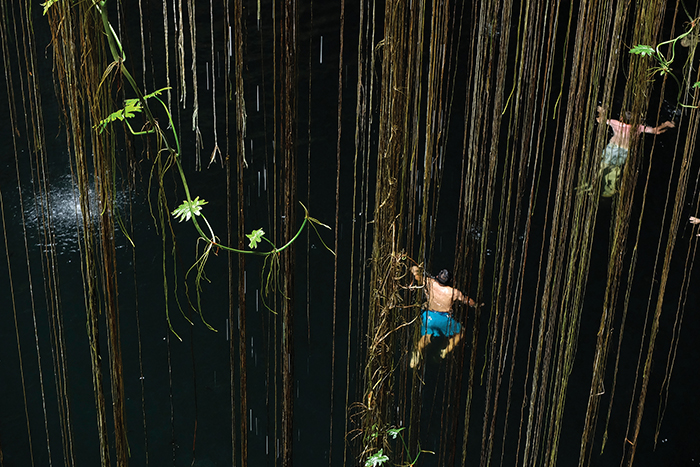 2017 Third Place
Doug Nicotera Rotary Club of Hershey, Pennsylvania, USA
"This image feels almost surreal or magical. We don't quite know what is going on. People are floating in water, but it almost looks like they could be falling, and they're so small in an image dominated by the vines. It's all a bit disorienting at first glance, but that first moment of ambiguity and mystery is part of its attractive quality" - Steve McCurry, photo contest judge.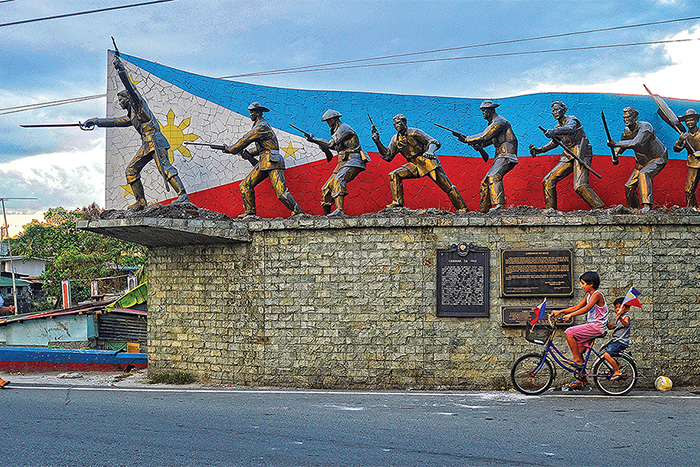 2017 Honorable Mention
Jose II Ramos Rotary Club of Marikina, Philippines
"Once again we have a powerful use of juxtaposition. Above, these heroic figures in dramatic poses, and below the everyday, the bicyclists, but above and below we have the visual echo of the flag. It's that repetition within difference that makes it powerful" - Steve McCurry, photo contest judge.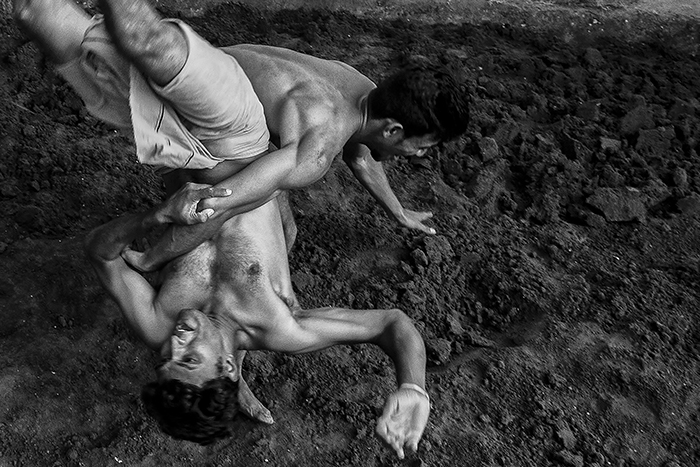 2017 Honorable Mention
Saravana Raj Rotary Club of Madurai North, India
"This image has a nice sense of action captured in the moment and a sense of an ongoing story, but it is also a bit abstracted, almost like a Renaissance painting of a biblical scene – wrestling with the devil, or the eternal struggle. There's a sense of epic struggle in the human form" - Steve McCurry, photo contest judge.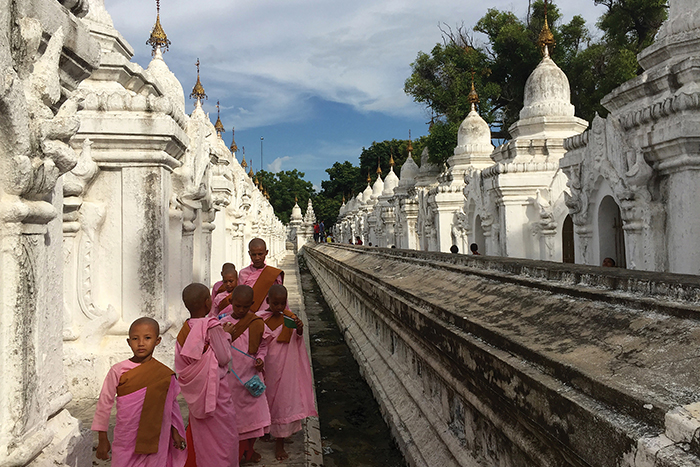 2017 Honorable Mention
Lisa Graydon Spouse of Michael Graydon of the Rotary Club of Mullumbimby, Australia
"This is a great example of how to use less color to make a successful color photograph. There's so much white, which makes the pink of the robes stand out. Color is often best when there is less. Too many colors can be distracting. The repetition of the shapes gives it visual interest" - Steve McCurry, photo contest judge.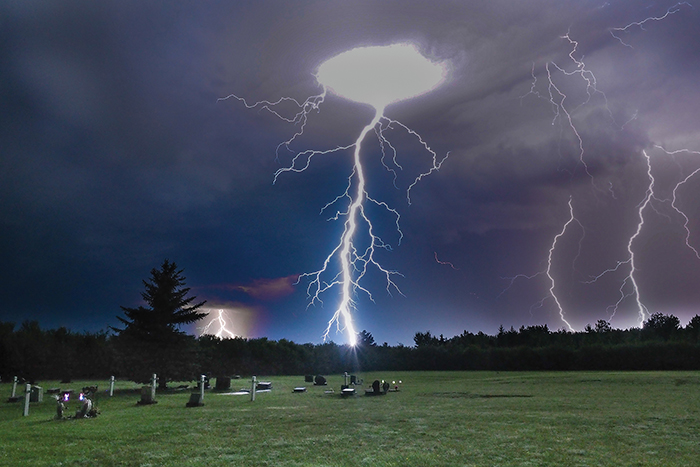 2017 Honorable Mention
Jason Whiting Rotary Club of Lloydminster, Saskatchewan, Canada
"We have all seen millions of lightning pictures, but that central area of light from which the lightning emanates makes it unusual. What is that strange area of light? I also like that in a lightning photograph, we are still solidly anchored in the landscape, with the ground in the picture" - Steve McCurry, photo contest judge.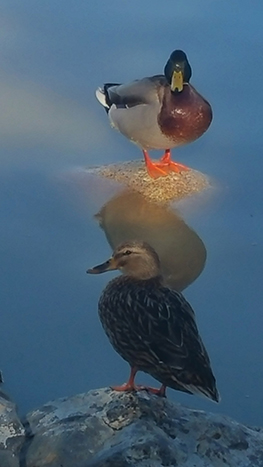 2017 Honorable Mention
Robert Alan Williams Rotary Club of Reno Central, Nevada, USA
"There's a strong sense of visual composition here, an interesting design stacking the ducks in the picture. The color is exactly right, with the muted color palette giving the orange of the duck's feet extra pop. The visual rhythm – the duck, the duck's reflection, and another duck – just works" - Steve McCurry, photo contest judge.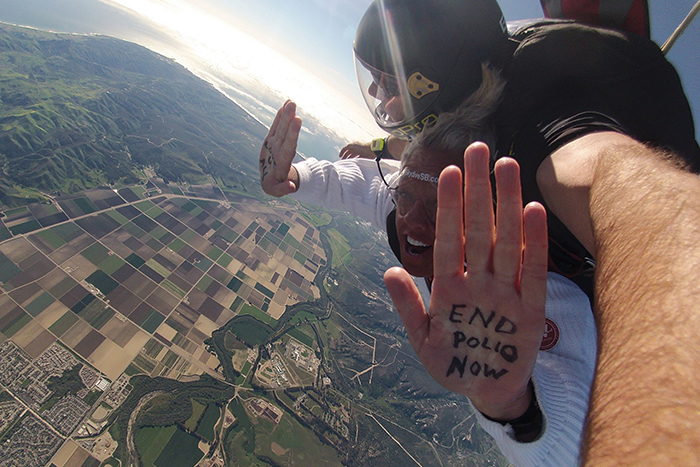 2017 Honorable Mention
Helena Dahlin Rotary Club of Goleta Noontime, California, USA
"The dramatic action of people skydiving is naturally interesting, but here the photographer adds the message about polio. The expression on her face is friendly and appealing, inviting us to be inspired. A lot of planning went into this, and the story behind the making of this picture catches your imagination" - Steve McCurry, photo contest judge.
Photo tips
10 ways to take more compelling photos
The right image can make you cry on the subway, laugh in a board meeting, or lend your support to a worthy cause on the spot. Grab your camera or take out your phone, and use these tips to tell your Rotary story through pictures.
Rotary on Instagram
Instagram is the photo lover's storytelling tool. Rotary uses the free social network to share pictures celebrating our members, local service projects, and community partners while showcasing our impact around the world. You can too: Download the Instagram app on smartphone and join the site's 500 million monthly active users. Follow @rotaryinternational on Instagram to see examples of how we can tell the Rotary story through pictures.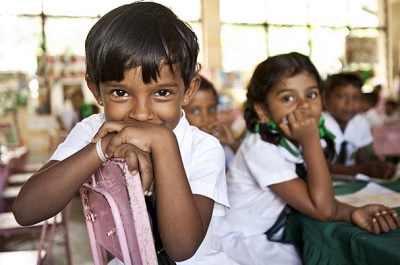 The Rotarian Photo Awards 2017-18  
Official Rules  
WHO
Any member of a Rotary club, honorary Rotarians, or a participant or alumnus of an official Rotary program who are eighteen (18) years or older.
WHEN
Photographs must be submitted between 1 December 2017 at 00:00 Central Standard Time ("CST") and 15 February 2018 at 23:59 CST ("Contest Period").  
HOW
1. Visit on.rotary.org/Photo2018 and complete the entry form ("Form") and agree to these Terms.
2. Using the link provided at on.rotary.org/Photo2018, upload and submit a maximum of three (3) photographs in the formats required, in addition to a description of the photographs. Photographs should relate to Rotary projects and people, or in some way to Rotary club activities or Rotary values. The Form is also available in electronic form upon request by contacting Rotary International ("Rotary").
You must only submit three (3) photographs. By submitting one or more photographs, you represent and warrant that your photographs are in compliance with these Terms. All photographs will become the property of Rotary and will not be returned.
PHOTOGRAPHS
Photograph Requirements
Your photographs must be your original creation;
You must hold all rights to the photographs, including copyright;
Photographs must be at least 1600 pixels wide for horizontal photos or 1600 pixels high for vertical photos at a resolution of 300 pixels per inch (ppi);
Photographs must be of high-resolution: at least 2 megabytes (MB) and not to exceed 5 MB per file;
Only photographs saved in a .jpg or .jpeg format may be submitted;
Photographs may be in color or black and white;
Photographs must have been taken digitally since 1 January 2017; and
If your Submission includes images or likenesses of people, you must receive permission to photograph those people and the permission of the parent or legal guardian of any minors to:

i) photograph those people, and
ii) license use of the photographs and their likenesses/images to Rotary.  
  Photograph Restrictions
Photographs may not have been previously published, exhibited, displayed, submitted or distributed to a third party and may not be pending publication;
Sponsor will not accept scans of non-digital photographs; 
Photographs must not contain material (images, logos, artwork, property) that violates or infringes the rights of others, including, but not limited, to copyright, trademark  or other intellectual property rights;
Photographs must not defame or invade the privacy rights or privacy of any person, living or deceased (including personal or private health information) or contain defamatory materials; and
Photographs must not contain inappropriate, indecent, obscene, hateful, unlawful, illegal or discriminatory materials, as determined in Rotary's sole discretion.
Rotary will disqualify any photographs that do not adhere to the requirements set forth above or that contain any of the restricted materials or activities set forth above.
AWARDS
First, second, third place and honorable mentions will be published in the June 2018 issue of The Rotarian Magazine. 
Rotary will notify winners on or around 15 March 2018 and the individual notified must contact RI within seven (7) days after being notified to claim or forfeit the award. Failure to respond within seven (7) days will result in forfeiture of the award.  
AWARD SELECTION
A photographer selected by Rotary will review the photographs based on storytelling ability, composition, aesthetic and emotional impact and three (3) photographers will be selected to receive either a first-place, second-place or third-place award. Photographs that do not comply with these Terms, in Rotary's sole discretion, will not be eligible for the award selection process or an award. 
PUBLICITY
By submitting a photograph, you grant Rotary, and The Rotary Foundation, a worldwide, royalty-free, irrevocable, sublicensable, assignable, perpetual, license and right to use, print, publish, reproduce, perform, edit, modify, adapt, distribute, broadcast, webcast, exhibit, digitize, archive, transmit, create derivative works from, and display your photograph(s), the content in your Form, and your likeness, name, image, statements, voice and biographical and personal information (collectively "Likeness") in whole or in part, for any purpose whatsoever, in any form, media or technology now known or later developed including in Rotary's publications, via streaming, and on social media. You agree that Rotary shall have the universal right to license use of your photographs and Likeness, including i) for the purpose of promoting Rotary and its Foundation, ii) to others including, media outlets and its licensed magazines and partners, and iii) through Rotary's online image database. Any personal information collected from you is subject to Rotary's Privacy Policy.
MISCELLANEOUS
Rotary shall not be liable in any way for injuries to persons or damages to property incurred or suffered by anyone involved in the creation of a photograph or submission of a photograph to Rotary or from the acceptance or use of any awards. The Rotarian Photo Awards is in no way sponsored, administered, endorsed or associated with Facebook; and you release Facebook and Rotary from any claims, damages and all liability arising out of or in any way related to your participation in The Rotarian Photo Awards. Rotary reserves the right to amend, withdraw or terminate these Terms. These Terms are governed by the laws of the State of Illinois, U.S.A. without regard to its conflict of laws; and in the event of any dispute arising under this Agreement, you agree to submit to the jurisdiction of any court, which is located in the County of Cook, State of Illinois, U.S.A. Nothing herein may be construed to make anyone submitting a photograph or involved in the creation of a photograph, including their parents/legal guardians, an agent or employee of Rotary.
Purchase from or donation to Rotary or its Foundation is not necessary.
All federal, state, and local laws apply. Void where prohibited or restricted by law.
Copyright © 2016 Rotary International. All rights reserved.