The tone for Callaway's Kings of Distance event at The Belfry was set right from the first shot – when long drive star Joe Miller hit it to 10 feet on the Brabazon course's famous par-4 10th... using an Odyssey 2-Ball putter! Eight hours later, after 96 invited golfers had hit hundreds of shots, holed dozens of putts, tried their hand at regripping clubs, being interviewed on TV and picked up tips from the likes of Denis Pugh, Marc Warren and Oliver Wilson, we revealed the whole group had added an astonishing 1,511 yards to their drives during the day.
Callaway's Marketing Director Nick McInally said:"What an incredible day; by far the best Kings of Distance we've ever done. To see an average distance increase v their current driver of 16 yards after just a 15-minute fitting in the Driving Zone is great testament to the Callaway product range but, to see someone like David Ho increase his already strong driving distance by 40 yards is truly something special."
Everyone brought their own drivers and hit them against Callaway's current crop of big dogs, like the XR 16 and Great Big Bertha. Every participant came through the range door and trust us, if the sunny weather was hot then some of the distance gains were positively smoking. We saw gains from one to 40 yards, with the average gain tipping the scales at 17 yards. Ten people averaged 300-plus yards and nine golfers gained 30-plus yards. Only three people didn't see any gain – and two of those were already using Callaway drivers! A majority of golfers were fitted into the XR 16 and XR 16 Pro. Its aerodynamic head was developed with Boeing and obviously performs for a wide range of golfers. The biggest distance gain came from David Ho, who picked up 40 yards with an XR 16! But as good as the XR 16 is, it's not for everyone. Some of the harder-hitting players were better suited to the lower spinning Big Bertha Alpha 816 DBD. James Vaughan lowered spin by 800rpm over his Titleist 910, and added an impressive 22 yards in the process.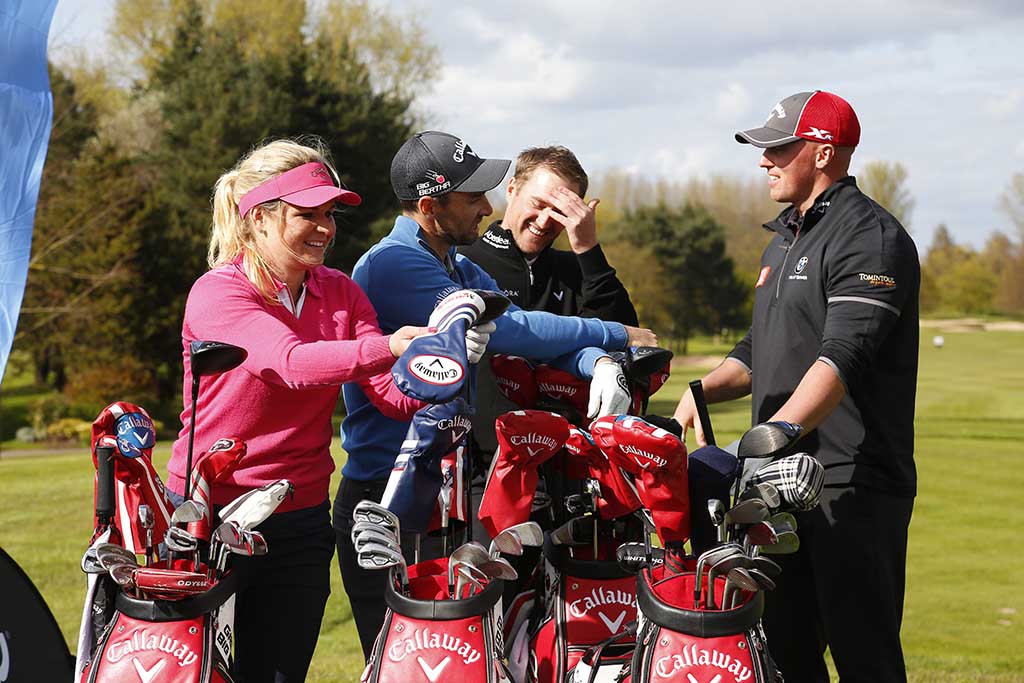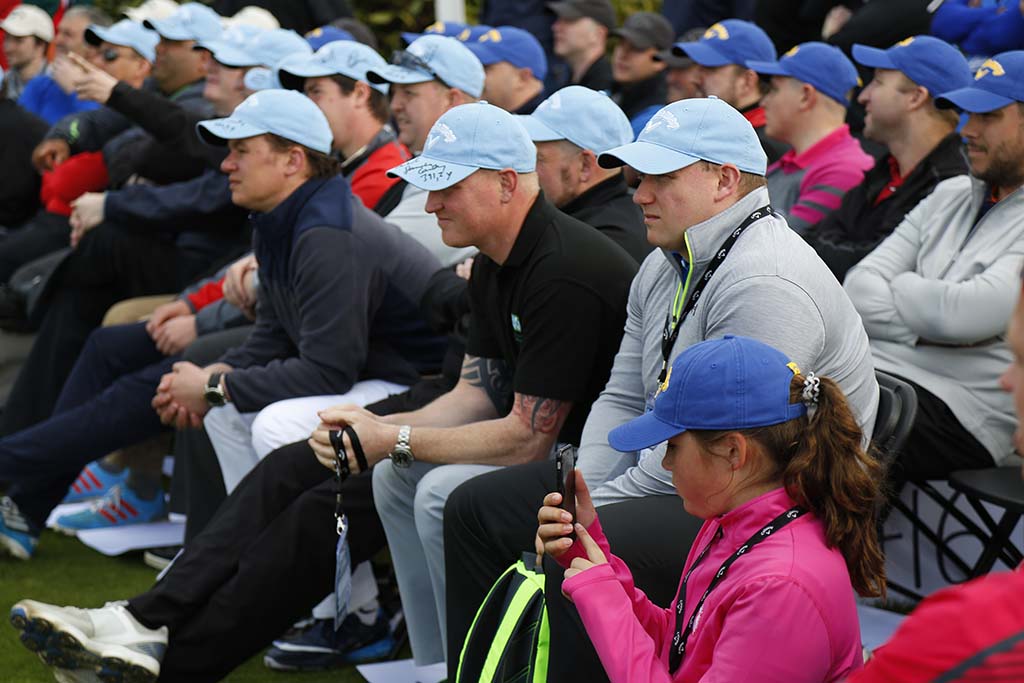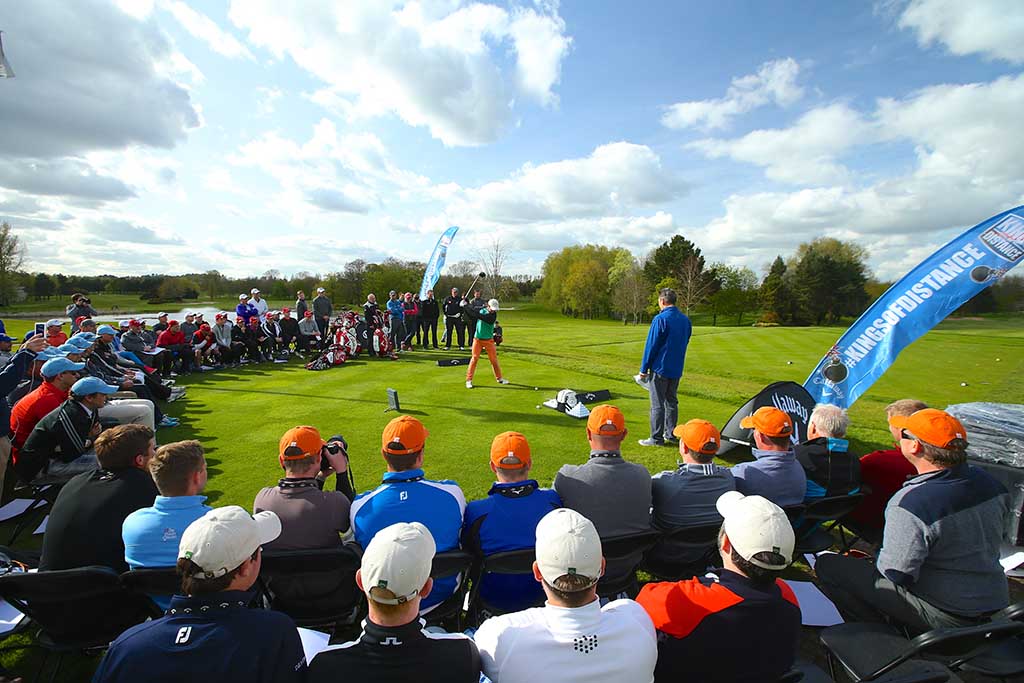 At the end of the day, big-hitters Dave Benford and Tom MacDonald won an XR 16 driver for their entire team in the grand finale challenge, where every group's longest and fourth-longest hitters of the day had two drives each on the opening hole of the famous Brabazon layout to register their biggest team distance. "I was just trying to make contact with the ball on my first drive!" said Tom. "Joe Miller chirped up just before my second drive and said "he's going to roof it". Thankfully, I made really good contact and it was even longer than the drives I was hitting on the range beforehand."
What people said on the day
'I've picked up 30 yards… who wouldn't want that?'
Alex Spencer

'How much more distance do you want from a new driver?'
Lee Carmichael

'The Tour Truck was bigger than my house!'
Martin Field.

'I used Danny Willett's putter to hole the 50 footer!'
Josh Stern
'Thanks to Denis I'm now hitting the ball higher and further'
Anil Budhia

'Joe Miller was incredibly impressive to watch'
Peter Evans

'I gained distance but more importantly, my accuracy didn't suffer'
Peter Evans

'The whole day was great fun and incredibly well-organised'
Tom MacDonald
Long Game Zone
The Long Game Zone was the home of four-time Ladies World Long Drive Champion Sandra Carlborg and an array of Callaway's latest clubs, including the XR and Apex families of irons, Apex, XR and Big Bertha hybrids and XR and Great Big Bertha fairway woods. There were a couple of special guest appearances as the day unfolded too.

Each group that came through the zone got to try Callaway's newest technologies, with clubs to suit all standards, styles and preferences. Our 96 lucky golfers got to hit under the watchful gaze of Sweden's Queen of Distance and Callaway's expert fitters on the pristine turf of The Belfry's huge driving range. The pair offered technique tips and equipment advice to all our lucky golfers and there were some incredible success stories.

Several guys who never normally uses a 3-wood because they struggle to get the ball off the deck were launching the 15° Callaway XR 16 soaring into the air and carrying over 200 yards. "This is incredible," said one. "I've never hit a 3-wood like this in my life. This is a game-changer," said another.
There were some interesting results when it came to the tricky decision between hybrids and long irons too. Better players often shy away from the larger headed utility clubs because they fear them heading left of target and don't think they're as workable. That's exactly what one single figure handicapper thought until he tried the compact Apex hybrid. "This club has surprised me," he admitted. "I would normally dismiss a hybrid but this has given me a real decision to make because I can see a lot of benefits to using one when it goes like this."

Once everyone had received their own personal advice it was time for a long driving masterclass from Carlborg. She showed the boys how it's done, monstering drives over 300 yards, much to the delight and surprise of her encouraging audience.

Carlborg, who also plays on the LET Access Tour, answered questions on the long driving scene, her equipment set-up, life on tour and shared a few power secrets. "It was great fun to meet all these different people, show them some entertaining shots and hopefully help them hit the ball a bit further too," said the Swede.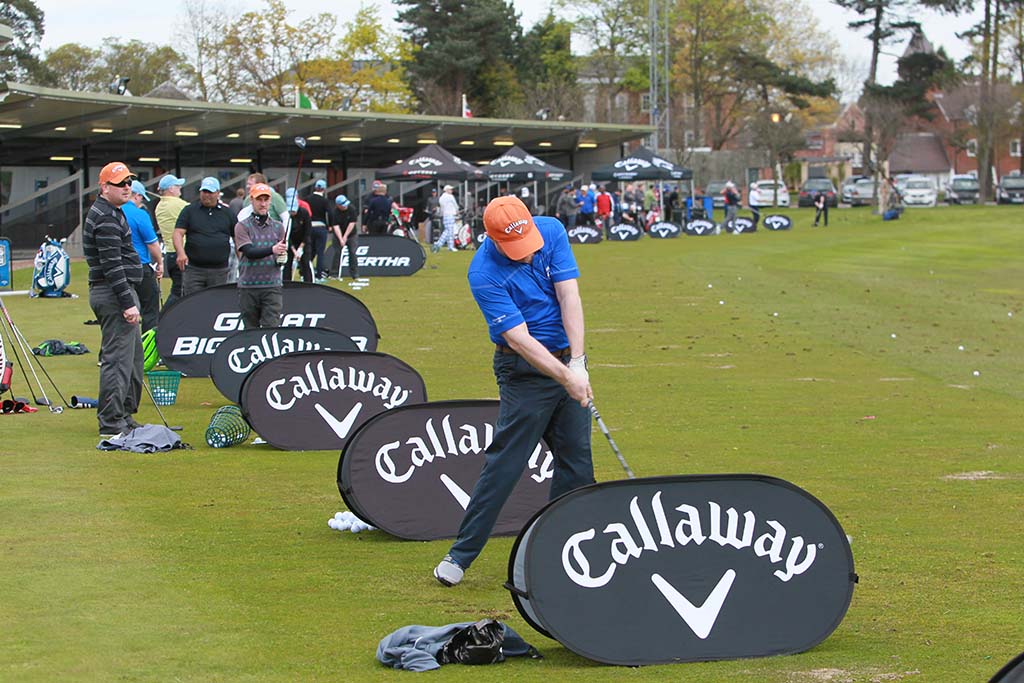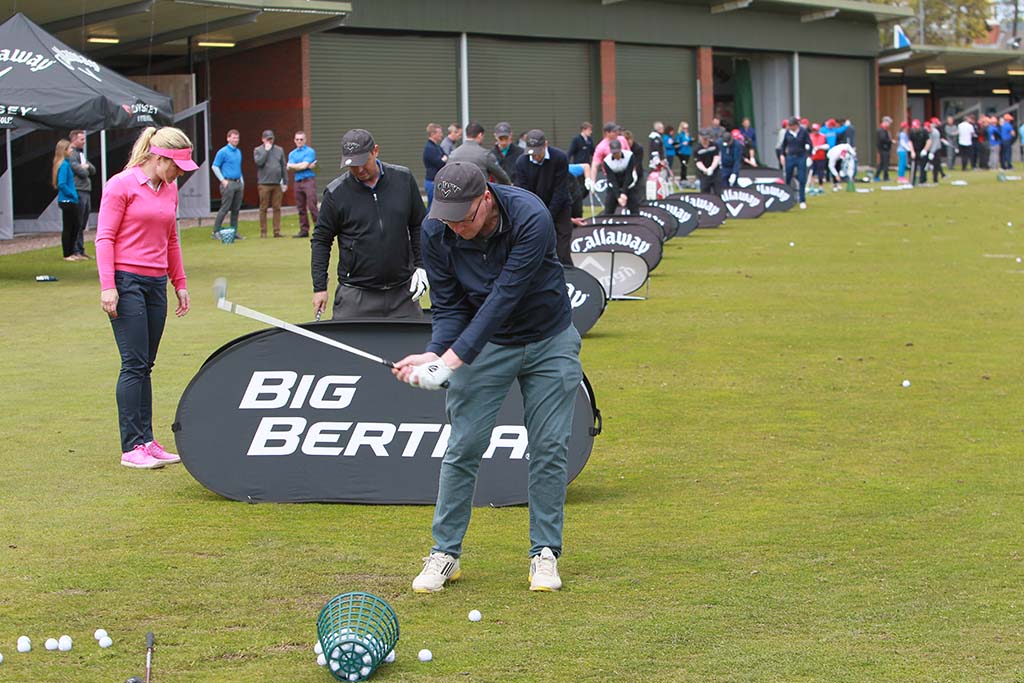 As if that all wasn't enough, Ryder Cup player Oliver Wilson and European Tour winner Marc Warren dropped in as well. Wilson, who won the Dunhill Links Championship in 2014, showed the crowd how he hit different ball flights, effortlessly flighting it high and low and drawing and fading the ball to order, while simply explaining how he did it.

Scotland's Warren explained how he gets the balance between power and accuracy right with the driver when there's a scorecard in his hand and hundreds of thousands of pounds at stake on the European Tour and demonstrated the basic fundamentals his efficient swing. But he stopped short of taking Carlborg on in a long driving contest!
Kings of Distance Short Game Zone
While the accent of Kings of Distance was on power, the day gave the 94 golfers the chance to trial all of Callaway's clubs. For the Short Game Zone that meant the latest Mack Daddy 3 range in lofts from 48-60º, for right and left-handers, plus the intriguing, angular PM grind – a club built for Phil Mickelson himself.

Callaway understand a sharp wedge game is key to converting power into low scores, and that's why the brand places special focus on the design and performance of their scoring clubs. It is also why they have enlisted legendary wedge builder Roger Cleveland to craft the clubs that will help the golfer capitalise on their improved long-game performance.

Mack Daddy 3 wedges are designed for round-the-green versatility, a theme explored with each group by Belfry senior coach Chris Ryan during an introductory five-minute clinic. Chris explained there are three ways to adjust the trajectory of the shot; opening the face, lowering the handle and developing a 'flip' release all gain quick height; a squarer face, a more vertical shaft and more forward shaft lean all send the ball out lower. Armed with this knowledge, the golfer can hit three different shots with the same wedge.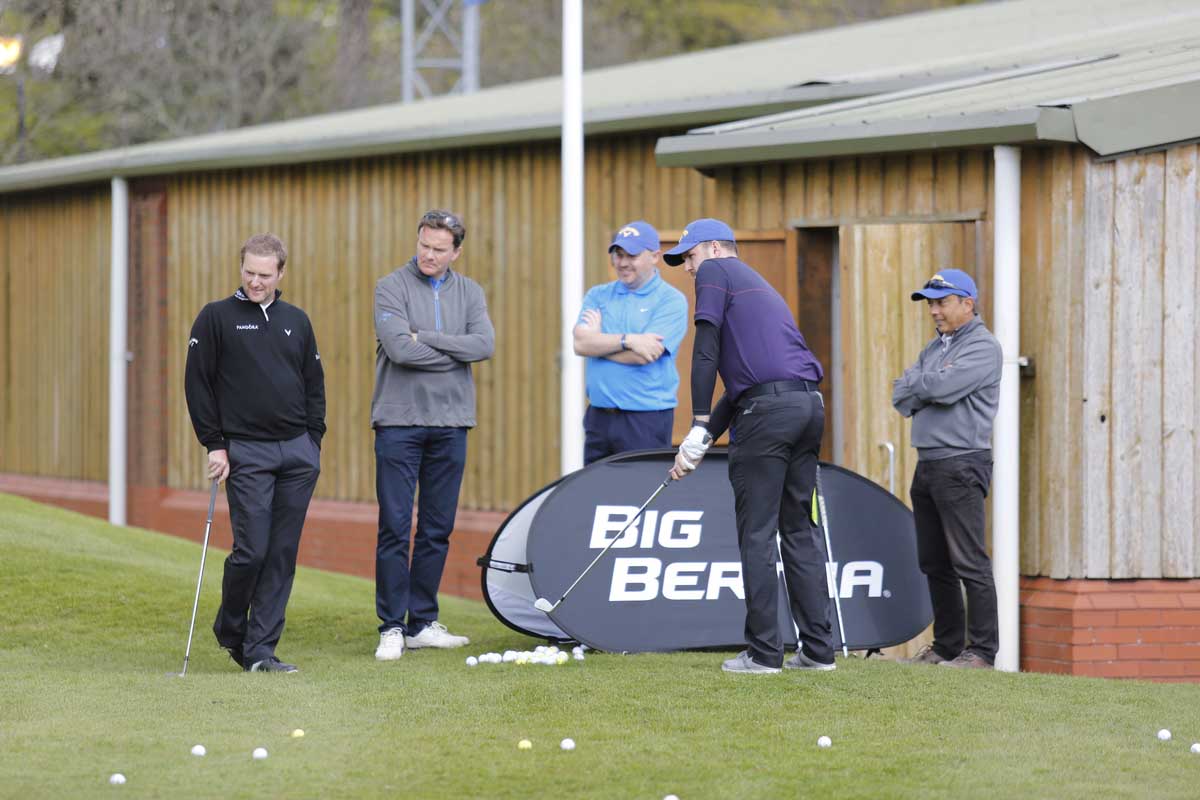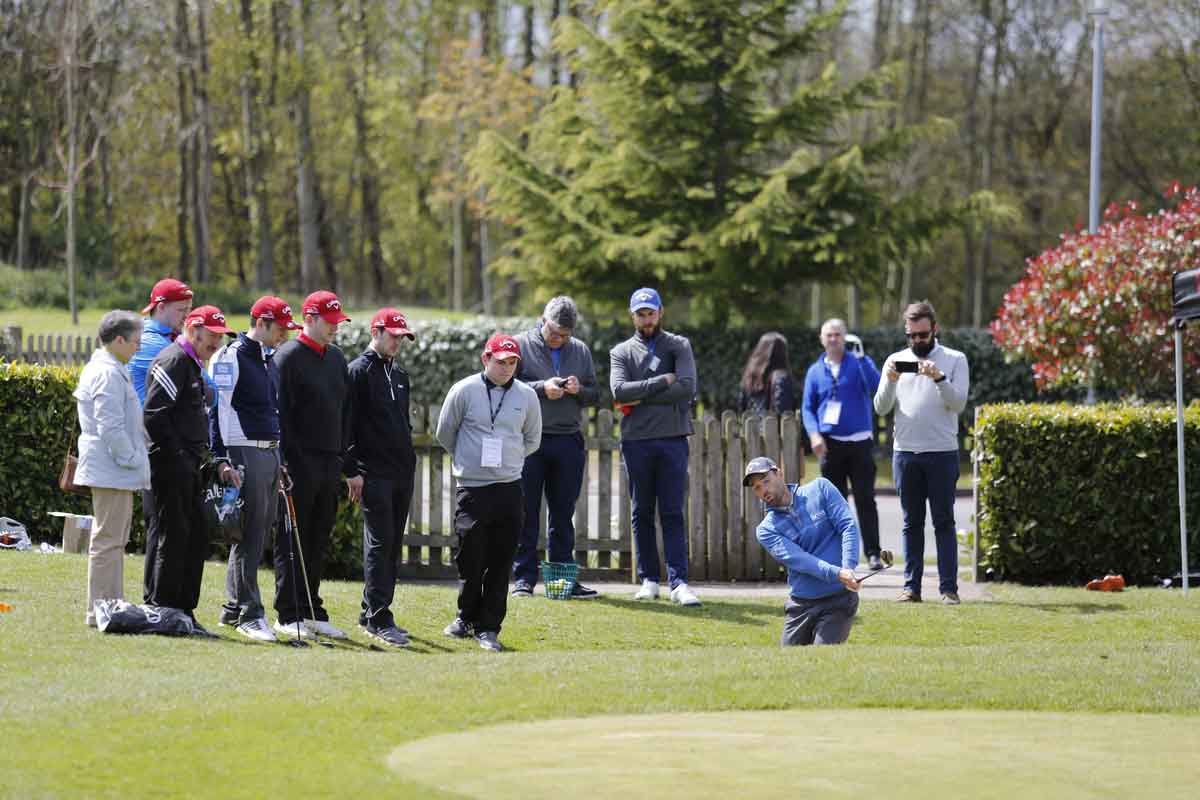 Chris was then joined in the Short Game Zone by Callaway Tour ambassador Oliver Wilson, winner of the 2014 Alfred Dunhill Links Championship. Oli explained to each group how selecting the right sole grind and bounce option for your game and conditions was key to Mack Daddy's performance.

"We all used to be taught to chip off the back foot, holding the wrist angle on the way through," he said. "It was an approach that limited you to one shot, when round the green you need to play all kinds – plus you were always risking the leading edge digging in. Using the bounce means the club doesn't dig and you can present the true loft of the club to the ball to get a consistent, soft flight."

Mack Daddy wedges are offered in three grinds. The wider W-grind is ideal for softer conditions and steeper attack angles; S-grind is the most versatile sole, while C-grind is for firmer conditions and adds heel and toe relief to allow opening the face without the leading edge rising.

Oli then demonstrated how to use the bounce. "Keep the shaft relatively neutral, and at impact just return the club to that angle. Vary loft as Chris has shown you, and you can play almost any shot you like. It's that simple."

Each group was then given the chance to put what they had learned into play on a three-hole 'course' on the Belfry's short game area, with each hole designed to present a different challenge – a high, floating pitch, a low running shot and a standard chip. Each player was invited to pick the wedge grind that best suited them and work on their short game creativity and versatility, adjusting set-up and release to create different trajectories.

To add an element of scoring and competition, golfers were given five Callaway balls each – four white and one yellow. Shots within a 5ft circle, marked with tee pegs, were awarded 2pts and any holed shots were given 5… points that were doubled with the high-pressure yellow ball.

Callum for the Blue team was the first to claim a single-ball 10-point haul, chipping in with the yellow ball. "I was using a 56º C-grind MD3," he revealed. "The ball came off the face softly, popped up and ran out into the hole. I was really pleased with the shot, and the club."

He was soon followed in, again on the yellow ball, by Tom McDonald, who also used the versatile C grind, this time in a 58º model. "I was certainly thinking about what Oli had told us on how to use the bounce," he said. "It has already made a difference to my quality of strike on chip shots and the ball is coming off the face with far more control."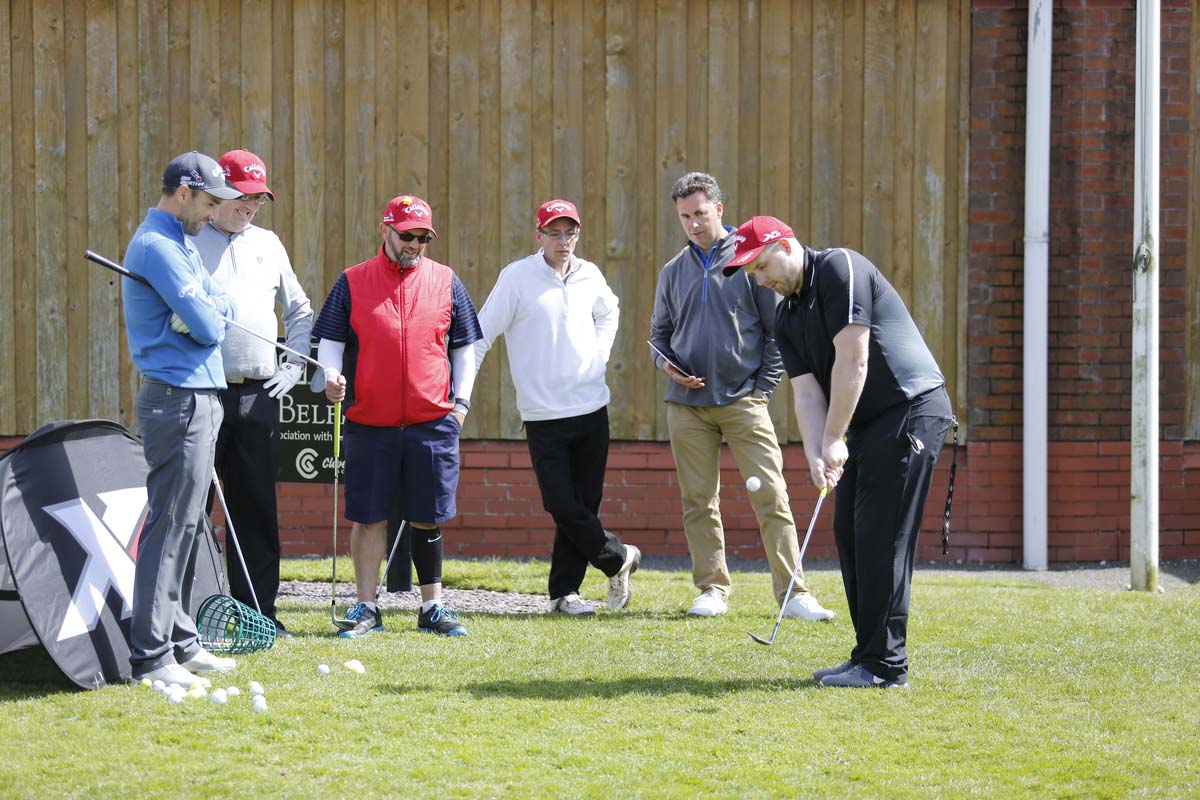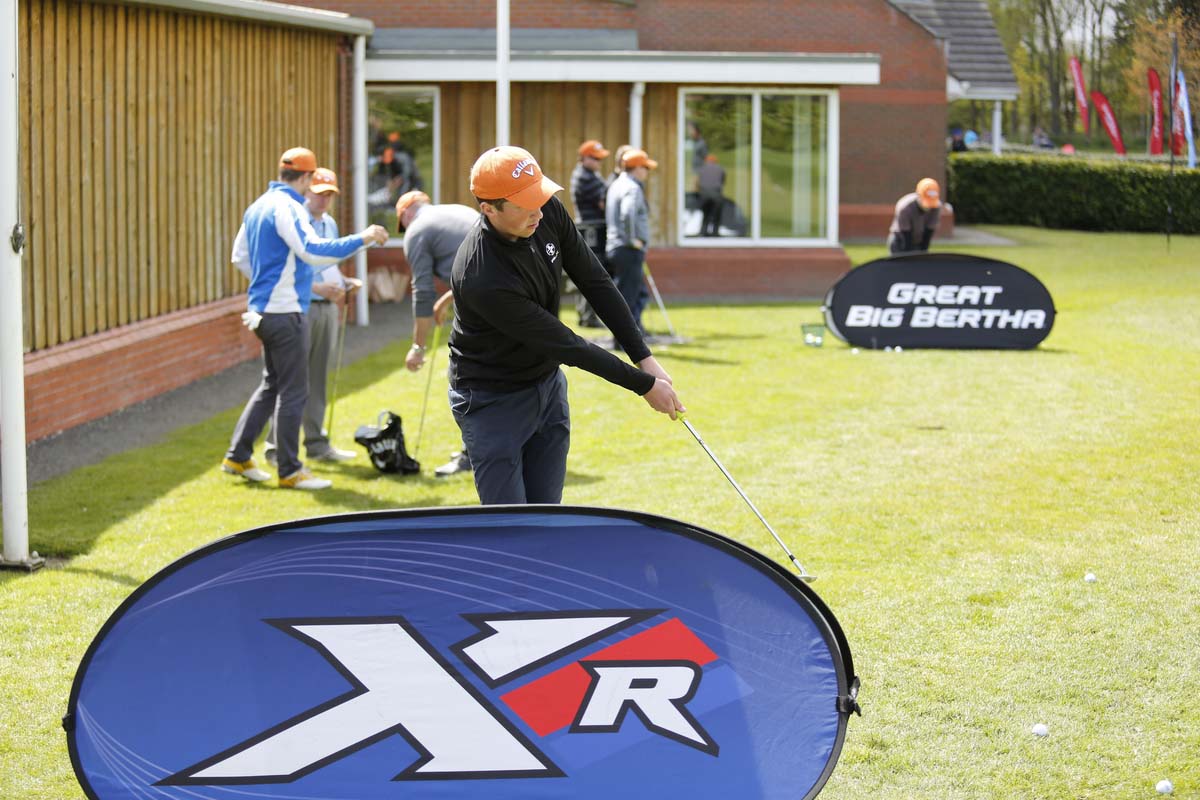 Meanwhile, groups were joined by another Callaway Tour Ambassador, triple European Tour winner Marc Warren. Marc watched the groups chip, before sharing his advice on a common issue he has observed with amateur golfers.

"Club players often struggle with club selection. In pro-ams I'm constantly seeing people chip with too much loft. Play a standard chip-and-run with a lob wedge and it's much harder to get it close. You have to be spot-on with your strike, you introduce the element of backspin and you can get bad bounce. Instead just use a 9-iron or maybe a wedge, land the ball two or three yards on to the green and let the club do the work to send the ball running out to the hole. Make it as simple as possible."

Every group enjoyed putting the tips from Chris, Oli and Marc into play with the Mack Daddy 3 wedges. "I've got the ball coming off the face nice and soft and would definitely recommend these wedges," said Matt Field. "In fact I'll probably be buying one." "The MD3 milled 52º is a brilliant club for me, similar to one I have at home," added the Red team's Neil Howe. "I feel I can do anything with it. It spins when I want it to, goes where I want it to… it's just a brilliant golf club."

"This whole session has been very interesting," summed up 13-handicapper Pete Evans. "I've discovered how to hit different shots with the same club, how to use the bounce properly, and got the chance to hit some very impressive wedges. The whole thing has been a fantastic learning experience, and one I can't wait to put into practice on the course."
Putting Zone
The putt was the best part of 50 feet with a minimal swing to the left over the last few yards.

Not many went close, but all that changed when Joe Theobald focused on the line and placed his Odyssey putter behind the ball. The strike was true and the line perfect as the ball tracked dead centre and rattled into the bottom of the cup.

It opened the flood gates as Adam Duff, Josh Stern, Matthew Burrell, James Webb and David Brown all followed suit. The latter shouting "Back of the shed," a term, apparently, well used on football pitches around the Midlands.
Oli Wilson's keys to great putting
- It can be about attitude. I want you to say to yourself every time you miss there's a greater chance that you'll hole the next one. Don't get down on yourself and think you'll never hole out again.

- Get your putter fitted to you and don't pick one off the shelf that you then have to adapt to. Club fitting isn't just about your irons and woods, it can apply to the way you putt as well.

- Think twice about using a line on the ball for aiming. I like a line on the putter, but a line on the ball can be confusing. You can spend ages trying to aim it properly only to stand over the ball and feel that it doesn't look right to your eye. Don't look for perfection. You might always aim right and have a slight pull in your stroke which delivers a perfect putt. It's probably best if you don't meddle with that.

- Do you have your eyes over the ball at address or slightly inside the line? The answer lies in knowing what to you looks like a straight putt. It's no good forcing your eyes over the target line, if you then feel like the ball is going to miss.

- I spend 10 to 15 minutes every day on my alignment and posture when I putt. I use a mirror placed on the green so that I can check that my eyes are in the right place for me and my ball position is constant.

- Don't always practise a straight putt. Sometimes you need to make it more difficult because you learn better when things are not quite so easy.

- If you tend to freeze over putts or have trouble moving the putter head smoothly away, try this technique I use on the Tour. As you take your last look at the hole, trace a line back and when your eyes get to the ball, use that momentum to start your backswing.

Oli Wilson, European Tour player and former Ryder Cup star
Mike Clark on picking the right putter
It's been a trait in recent years for people to cut down their putters to make them shorter. With the popular Tank model you need to be careful. The Tank is designed to have a good portion of the grip above your hands. Because of that there is no length customisation. This model is counter balanced to increase the MOI so that it is more solid through impact.

When you're selecting a new putter, it's a great idea to go for a fitting. Many golfers tend to stick with a particular style of head even though analysis of their stroke means that they'd be better suited to something else.

The position of the eyes over the ball is closely related to the type of putter you should use. Players with their eyes over the ball would benefit from a face balanced model, while those who like to stand a little further from the ball might be more comfortable with a toe hang putter that encourages an arced stroke.

Odyssey's new Toe Up putters offer stability through the hitting area whether you have a square to square stroke or prefer to move the club slight inside.

Alignment is obviously key when it comes to putting and there are two styles that you need to look for. Linear alignment is the most common form and features a line on the head that corresponds with the target line to the hole. The alternative is parallel which is evident in the versa model where the head is divided into black and white sections that sit perpendicular to the line of the putt. You need to find out which one works best for you.

Mike Clark, Odyssey putter technician
Shot Centre with Denis Pugh
Denis Pugh is famous for hosting the Shot Centre on Sky Sports, where some of the best players on Tour give insights into their game. He's almost as famous for not giving tip on Twitter.

So as one of the top coaches in Britain – who works with Ryder Cup players like Francesco Molinari and Ross Fisher – we wanted to give everyone at Kings of Distance a personal lesson from him.

In the Denis Pugh Shot Centre Zone, every golfer received that personal two-minute lesson – he's never given so many tips in one day!

At the beginning of each session, Denis explained to the group how he was going to quickly fix each golfer's problem shot.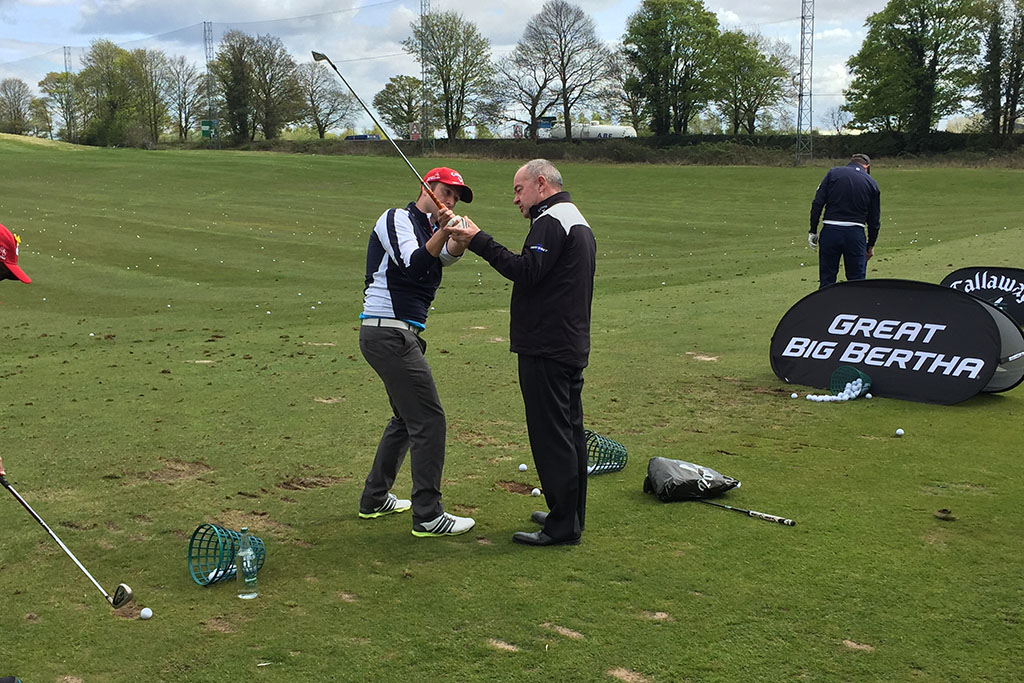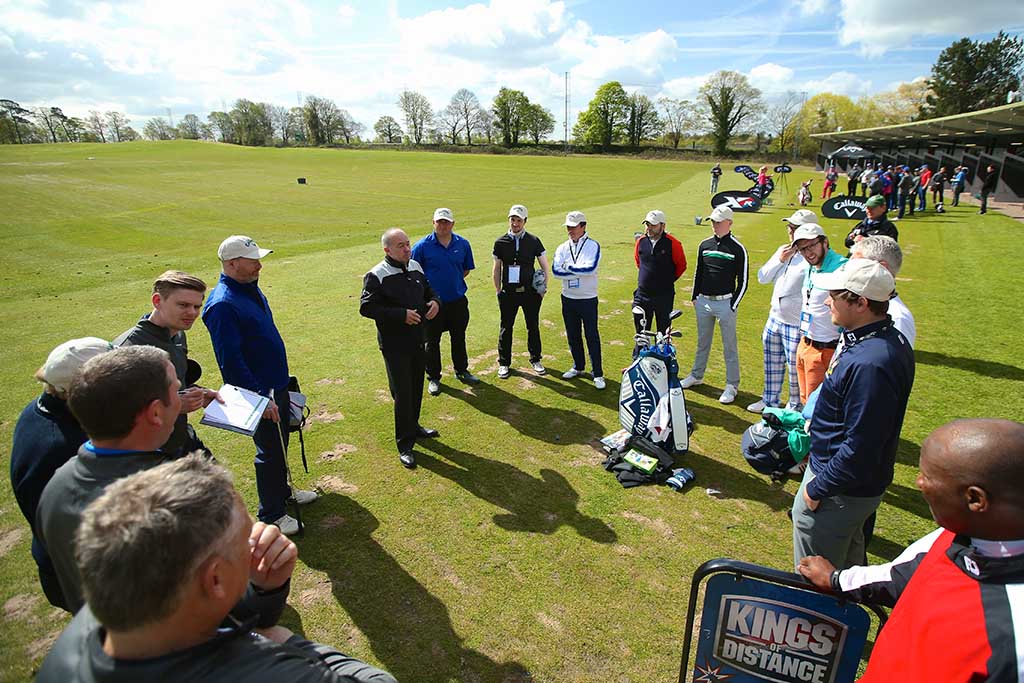 He revealed that he first looked at the quality of the basics – the grip, stance, ball position, alignment and posture. In most cases, swing problems can be traced back to glitches in one or more of those five key areas.

Denis then explained that if a golfer's basics looked good, he would switch his attention to the "three fundamentals" that affect the overall motion of the swing – balance, plane and leverage. Denis would then look for problems in those three areas. Denis set himself the goal at the beginning of the day of not giving the same tip twice. That way, everybody got a unique piece of advice relevant to their own game.

Denis said: "It's not every day you give nearly 100 lessons back-to back, but the feedback I received in person and on Twitter afterwards was amazingly positive.

"The most common fault stemmed from poor posture and the biggest challenge was to make sure I didn't repeat myself and that my brain was still semi-functioning.

"Thankfully, the vast majority of golfers saw instant improvements which far exceeded my expectations."
I tend to swing quite flat in my backswing. At address, Denis suggested that I should keep my hands raised slightly and straighten my posture slightly. The idea is to feel like I'm swinging on an out-to-in path and to achieve a higher swing plane. I naturally draw the ball but a few of my shots since have been leaking right if anything. I haven't lost any distance, though, as the consistency of strike has improved.
Dave Benford

I'm quite new to the game and I had been spraying the ball over the place. Denis weakened my grip slightly and almost immediately it straightened my flight. I'm now hitting the ball higher and further which is a pretty good combination.
Anil Budhia

I had a tendency to squat down in my swing so Denis advised me to pivot around the bottom of my spine. I'm now focusing on keeping the height in my swing and the results have been encouraging so far.
Martin Field

Denis noted that the weight was too far back in my heels and I was sitting down a bit too much. He suggested moving my pelvis forward and centring my weight. I have a natural draw and the ball flight has certainly improved. It was a useful little tip just in time for the summer.
Tim Lewis
Denis advised keeping a closer connection between my right tricep and my body in the backswing. I tend to hit the occasional hook or push, so he suggested placing a headcover or glove under my arm pit and to practice making half swings. I knew what I was doing wrong so it's just a case of rehearsing the drill now.
Tom MacDonald

I have quite a strong grip but as I play off five, he [Denis] suggested paying closer attention to getting more of a shoulder rotation in my backswing. If I'm honest, it felt quite disconnected trying to extend the arc, but it's certainly given me something to work on. Things will probably get worse before it gets better, but he knows what he is talking about so I'll be following his advice.
George Palmer

One of my swing faults stems from chucking my right hip into the ball during the downswing. This effectively de-lofts the face and creates a steeper angle of attack. My top tip from Denis was to withhold the hip turn in my downswing to encourage a more gradual transition. Instantly, I noticed an improvement and I'm now imparting a right to left movement, rather than my usual left to right ball flight.
Josh Stern

Denis pointed out that I was losing balance and leaning forward too much. He told me to stand more upright and to position my weight on the balls of my feet. It's probably going to take some time to get used to it, but I did hit some really good shots which is encouraging.
David Eley

I recently had a stroke and I'm a bit wooden legged as a result. Denis was trying to get me to drive my right side through the ball and achieve a better weight shift. I told Denis I'm open to all tips as I just want to improve so I'll definitely be putting his advice into practice.
Martin Chadwick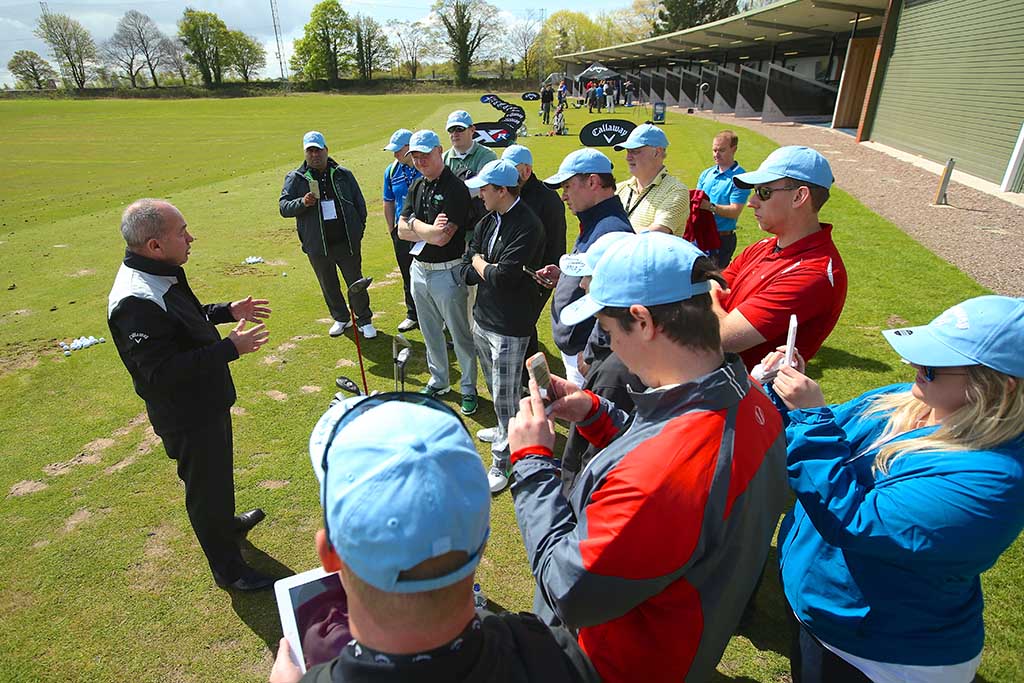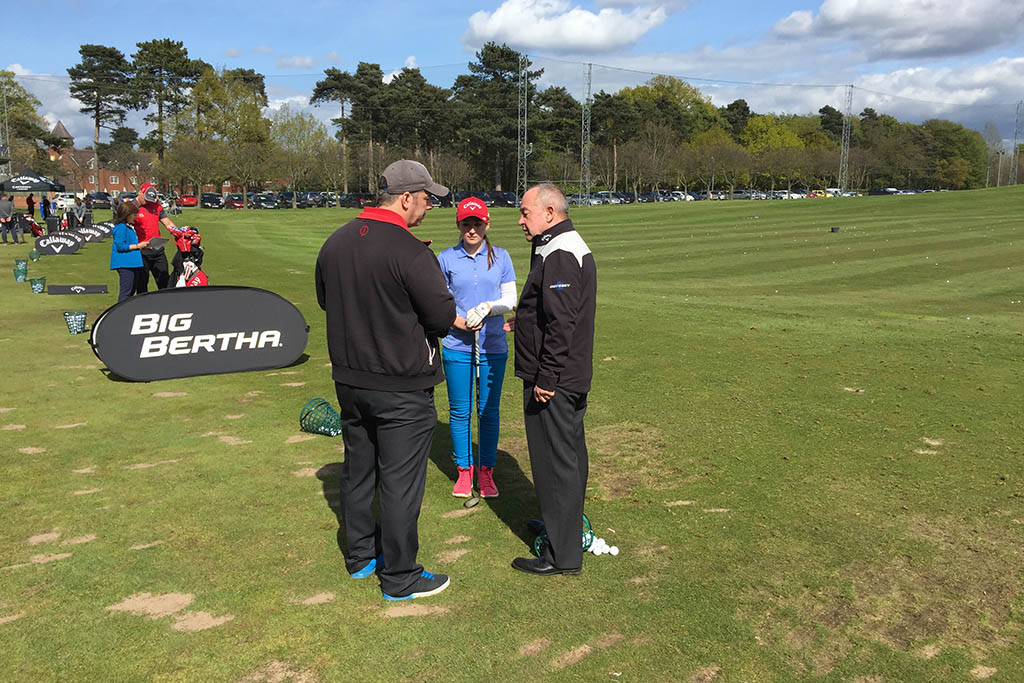 Callaway Tour Truck
Callaway's massive European Tour truck is usually the preserve of tour staff and the firm's players – but for one day only it was open to the participants at Kings of Distance. The 35-tonne behemoth operates as a workshop, tea room, office, sounding board… anything Callaway's players want, from a new driver to a shoulder to cry on after a bad round, they can find it in here.

It's driven and set-up by Paul Monks, a 15-year tour veteran who has created clubs for some of the biggest names in the game. It drives all over Europe during the summer, from the Swedish Open in the north to the Portuguese Open in the south. "Everyone wants to try the latest kit," says Monks. "But whether they put it in the bag straight away is up to them. The numbers have to be better."

"We operate an open-door policy on the truck. We have three sections - the office area, the work area and the player reception area. Some guys just come in for a chat and watch TV. I get on with all of them." One of the most frequent tasks is regrouping, and at The Belfry the gripping challenge was a popular activity. Members from each group were given the chance to take part, times and videos for the process, which normally takes about 20 seconds to get right.

Some of the guys took well over a minute, but +2 handicapper Andy Minnikin managed to do it in an impressive 32 seconds.
Media Zone
How hard can it be talking about golf? We do it all the time! Put put a microphone in your hand, and an earpiece in with a producer talking down it, and all of a sudden it gets very difficult indeed. Sky Sports' Rob Lee knows exactly how tricky it is – and he gave Kings of Distance participants a taster in the Media Zone.

"As soon as people had a camera and a microphone put in front of them, many clammed up," said Lee, who invited participants to host the golf on Sky, or be interviewed as a player.

"It's one thing to do it; it's quite another to do it with the producer – me – talking in your ear all the time. And it's another thing to do it to a specific time. When you tell people they've got to talk about Danny Willett's last drive at the Masters, and they've got two minutes to do so, and the producer is saying 'talk about his XR 16 driver, talk about Spieth, talk about the bunkers, the distance for his second… it can be quite tricky!"

Even so, at least two people in every group had a go – some with more success than others!
Kings of Distance Driving Zone
Driver performance is fundamental to Calllaway's business, it's in their bones, their blood and their DNA. The whole purpose of Kings of Distance was to prove Callaway drivers can hold their own at the top table of distance and power in golf. With that in mind the driving zone was a hive of excitement throughout the day, for many it was the very reason they'd applied to take part in the first place.

To set the scene there was six fitting bays in operation, and each golfer got long drive tips from the big hitting Joe Miller before warming up pre-fitting. Each bay was decked out with a Trackman launch monitor and iPad to record before and after distances, and each was staffed by a full-time Callaway fitter along with his Opti-Fit cart rammed full of every driver the company makes and more shafts than you can shake a stick at.

Attendees were actively encouraged to bring their own drivers and hit them against Callaway's current crop of big dogs. Callaway reckons through proper fitting their drivers can be tailored to suit all swing types and deliver more distance than any driver on the market. It's worth pointing out the Driving Zone was about pure distance, more than once Callaway's fitters were heard murmuring this session was about distance gains rather than dispersion reduction, but a proper fitting session would look at both.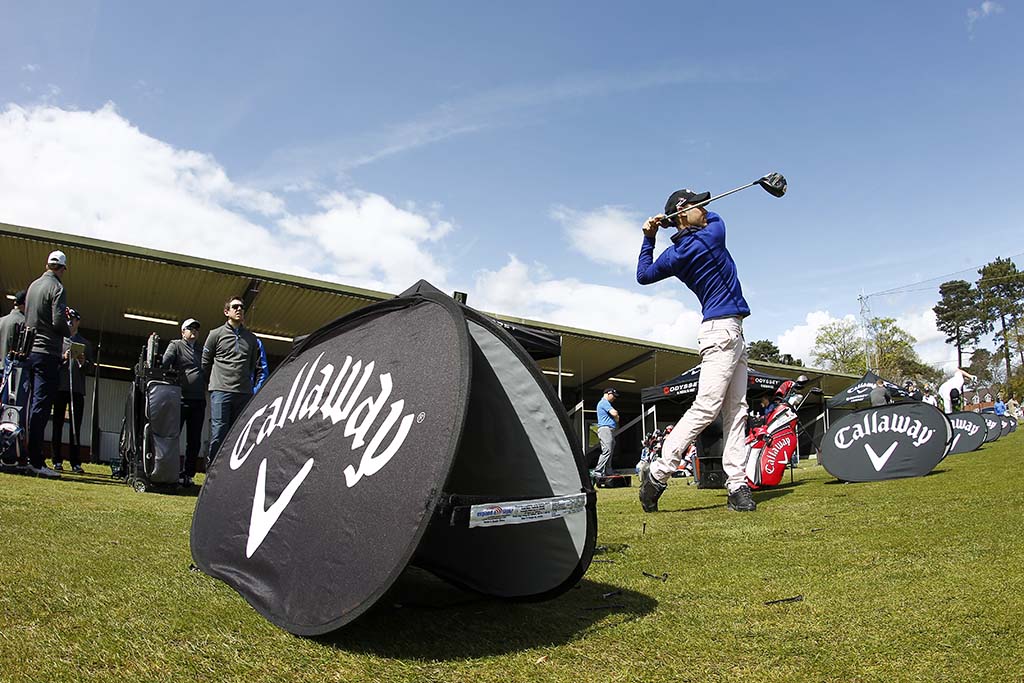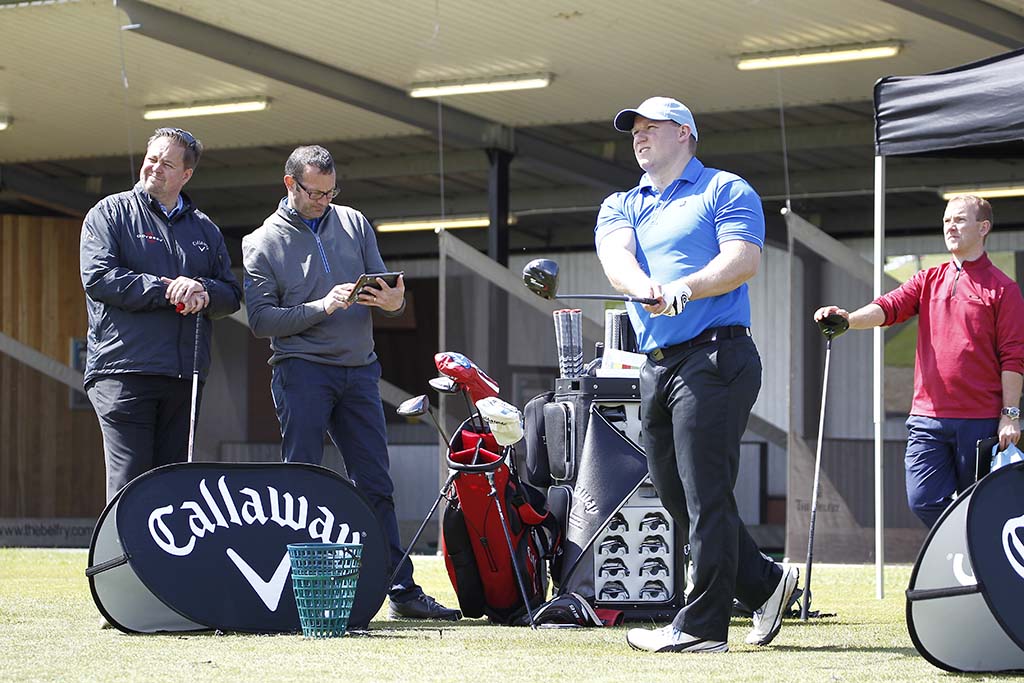 In all 90 golfers came through the range door and trust us if the sunny weather was hot then some of the distance gains were positively smoking. We saw gains from 1 to 40 yards with the average gain tipping the scales at 17 yards. 10 people averaged 300+ yards and 9 people saw 30+ yards gained, which consider its been statistically proven if you hit it 10 yards further off the tee you'll save a shot a round is nothing to be sniffed at. Only three people didn't make any gain and 2 of those were already using Callaway Drivers, which has to say Callaway have made some top drivers down the years too.

A majority of testers were fitted into the XR 16 and XR 16 Pro driver. Its aerodynamic head was developed with help from Boeing and obviously performs for a wide audience. It didn't only perform in the hands of the boys either. 13-year-old Liby Kilbride, who's already off 5 and has aspirations to play on tour, along with 12-year-old Lili Horn, both loved nailing the XR 16 and with Lili gaining 14 yards we reckon both are worth watching for the future.

Chris Goodier was one of the more challenging fittings. He generated lots of spin which is a common factor for inhibiting long hitting. His fitter took him through 4 driver head swaps and 15 shaft changes before finding his perfect set up and adding 17 yards over his current Titleist 915.

Seriously impressive was Callum Mitcham who reckoned he'd only played golf properly for 6 months. Unbelievably averaging 300 yards with the XR 16 "I've gained 27 yards over my Wilson Staff D100" he said "it was handed down to me, oh and the XR 16 feels sweeter".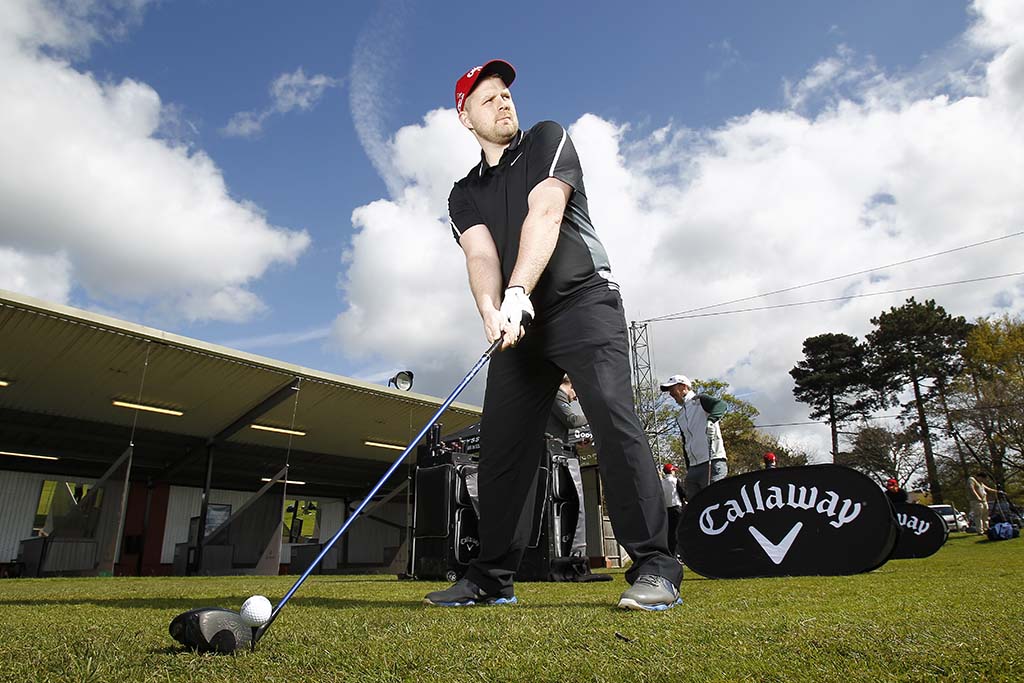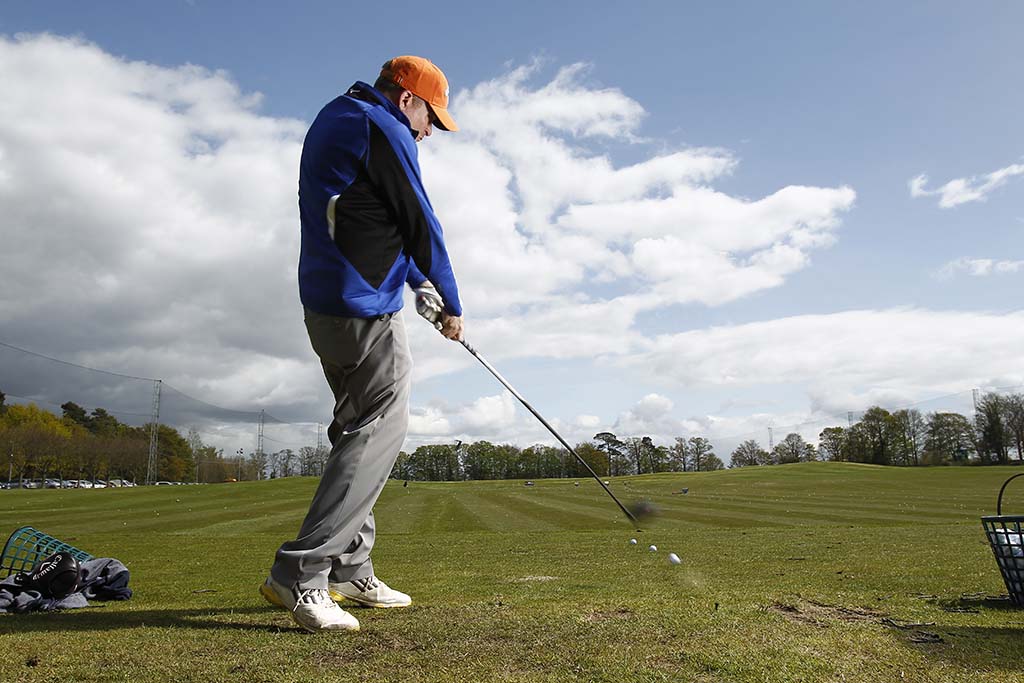 I have seen all my stats on a GC2 machine, but that was my first experience using TrackMan. It was really fun and I was fitted for a Great Big Bertha. I actually own a Big Bertha but I have really struggled with it in the past. I will probably persevere with it now and maybe switch to the same shaft I was fitted for as I hit some really good shots.
Tom MacDonald.

The driver I was fitted for felt really solid and I could tell from the very first ball I hit that I was going to gain plenty of distance. I tried a few different settings to tighten the dispersion and it didn't take long to feel at home using the club. I just broke my driver as well, so I needed a new one. It was my first experience using a Callaway driver and it was absolutely quality.
Dave Benford.
One of the best dressed testers of the day Mr Bunker Mentality himself Alex Spencer reckoned he "ripped the XR 16 out there, I've picked up 30 yards…who wouldn't want that?".

Paul Ketchlove also saw the XR 16 do the business too, but this time not only for distance. An 11 yard gain over his TaylorMade SLDR was decent enough but an improvement in accuracy and dispersion too was just showing off.

Lee Carmichael was also a big fan of the XR 16 reckoning "how much more distance do you want from a new driver?" he gained 12 yards over his own Cobra Bio Cell driver.

One of our favourite fittings of the day was Geoff Godsmark who's a regular TG event bomber. He rocked up with his 4 year old Callaway Razr Fit driver which we'd unsuccessfully tried to out bat at a previous TG reader day. Even with the shiniest, most worn grip we saw all day it didn't stop Geoff racking up some decent numbers. Thanks to the XR 16 though this time he was able to out gun his favourite big dog by 10 yards!

As good a driver as XR 16 is it's not for everyone. Some of the harder more powerful hitters through the Driving Zone were better suited to the lower spinning Alpha 816 DBD. James Vaughan lowered spin by 800rpm over his Titleist 910 and added an impressive 22 yards in the process, which if nothing else has to say so long as you can launch it, too much spin can hold you back when it comes to hitting it long.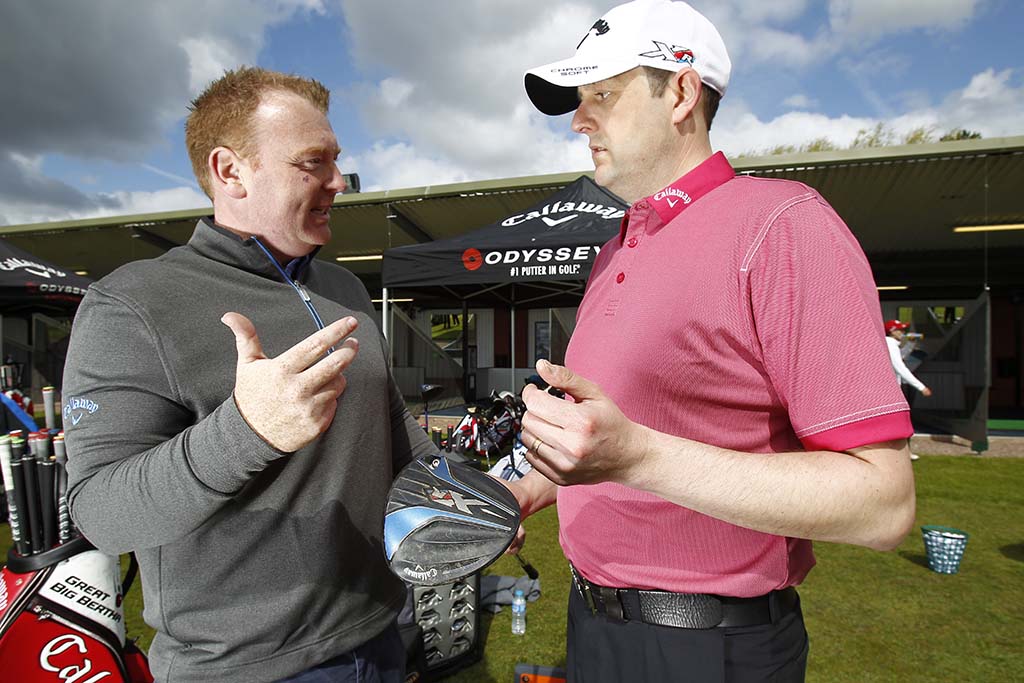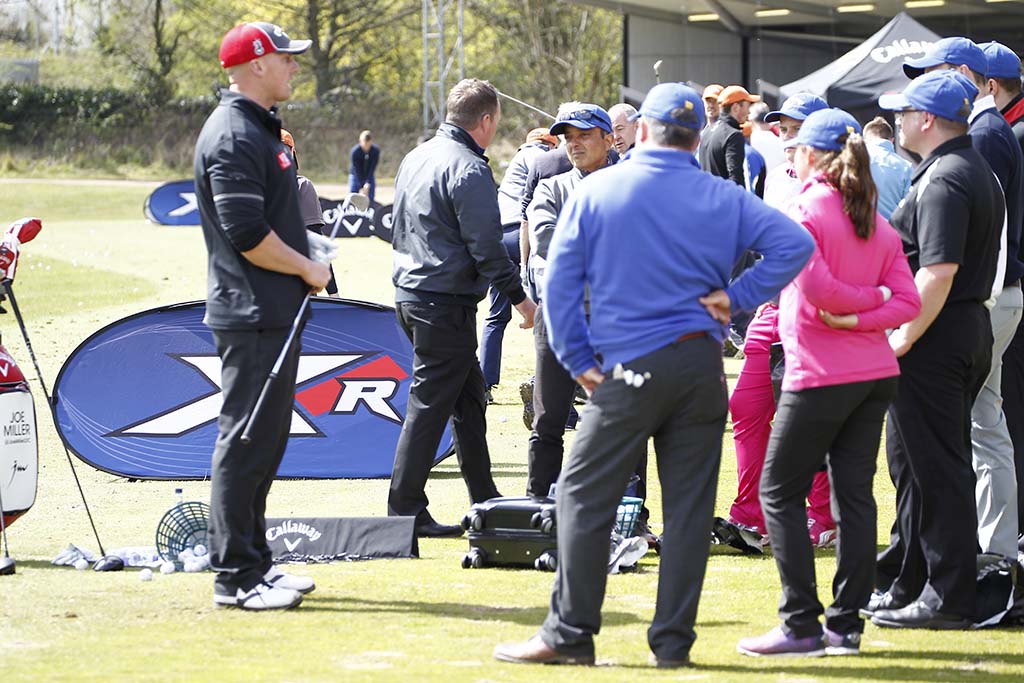 William Thomas bought an interesting test to the sun bathed range, pitting his Callaway Alpha 815 against the latest Alpha 816. Here at TG we often get asked how much difference a new driver model can make, well of course it's down to the individual but incredibly William saw an increase of 18 yards just by switching a generation of driver!

There weren't any awards for quote of the day, but if there were it would have gone to the fitter looking after Richard Gibson. After watching two drives carry 312 yards he sheepishly said "Ermmmmm let's see if we can get you a stronger shaft".

There weren't any awards for twitter handle of the day either but a couple of our favourites were @kcnkickthecat and @meatstweets1 which when their owners were asked for explanations were actually pretty simple. One, it sounded good and two, meats was my school nickname which has stuck…which couldn't be more straight forward.

To wrap up there were plenty of smiles, slices a few tops and more than a couple of sky marks created on the driving zone but ultimately on average 90 testers gained a total of 1511 yards. On average that's 17 yards gained per tester which for many unless you're Joe Miller is well worth investing in a new driver for.
It was the first time I had used TrackMan and it was fantastic to see all my stats. I recently moved to a mini driver but after today I will be moving straight back to a normal Callaway driver. I felt comfortable with the driver I have been fitted for and gained a lot of distance too. My spin rates were reduced by about 2,000rpm and I saw a big improvement in my accuracy. Overall, I'm really chuffed with the experience.
Dave Chapman.

I loved every second of it. I saw some massive improvements. I have a regular shaft in my current driver and I often end up spraying the ball over the place. Once I was fitted with a stiff shaft, I gained so much more control and my ball flight was far more penetrating. I may well consider purchasing the driver now.
Anil Budhia.

My ball flight is usually quite low so I tried a couple of different drivers with a higher loft and I gained about 20 yards in carry distance. I have been looking for a new driver for a while now, as my current club is about 15 years old. It's definitely given me something to think about.
Tim Lewis.

It was good to see all my numbers such as my launch angle, flight path and swing speed. As golfers, we like to analyse our swing so it was very insightful. I have a Callaway driver at the moment and it would take something special to change to a different version, but I was really taken with the look and feel of the driver I was fitted for. I love the Callaway clubs and it's something to think about for the future definitely.
George Palmer.
The first club I tried felt really horrible and I didn't like it. The fitter changed the setting to neutral and added an extra degree of loft, and it felt like a completely different club. I absolutely loved it. I would buy it tomorrow.
Mark Field.

I was very impressed with the whole process. I tried a variety of different settings and it was interesting to see the difference a specific shaft or clubhead makes. I gained distance but more importantly, my accuracy didn't suffer and I was still finding the fairway consistently.
Peter Evans.

I was striking the club really well and gained 28 yards. I was fitted with a stiffer shaft and it felt really nice to hit. I used to have an old Big Bertha actually and unless I can find an extra stiff shaft for my current driver, I may well switch back to a Callaway one.
Douglas Hartshorne.

I was only recently fitted for my current driver so hitting a new Callaway driver did confuse me a bit. I really liked the club but in the short term I probably wouldn't consider purchasing it. Further down the line, I might end up switching to a Callaway driver as I did gain some extra yardage.
Martin Chadwick.