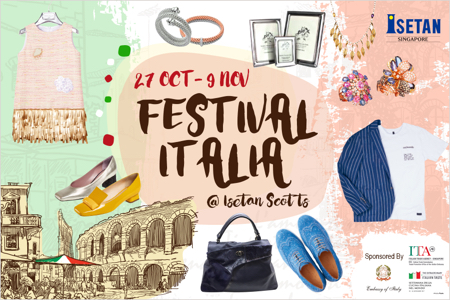 Italy has arrived at your doorstep!
The first 2,000 users who cast a vote will receive a 10% discount Voucher Code.

Spend a minimum of $100 at Isetan Scotts and show your coupon at the redemption counters from 27 Oct – 9 Nov to redeem your 10% rebate voucher.

Also, 100 lucky winners will walk away with a free special prize. Redemption is at Isetan Scotts, Level 2, Italian Fashion Town Pop-up.
Campaign Steps
Cast a Vote
Enter your email and Agree to the Terms and Conditions
Receive the Voucher Code
How to Claim Gift
Wait for a separate confirmation email containing the gift coupon *within the next day
Go to Isetan Scotts, Level 2, Italian Fashion Town Pop-up
Show the store staff your gift coupon and claim your special gift from Isetan.
How to Exchange Coupon for Voucher
Come to Isetan Scotts and make a minimum purchase of $100
Show the store staff your coupon
Get a 10% Rebate Voucher with min. $100 nett purchase and on every subsequent $50 nett purchase made on regular priced items and Festival Italia at Isetan Scotts upon showing voucher code at redemption counter.
Terms & Conditions
*Rebate will be given in the form of Isetan Promotion Vouchers. Same day receipts from the same store may be combined. Includes purchases on regular priced items and Festival Italia only. Exclude purchases from Isetan Supermarket, purchase of Isetan Gift Vouchers, purchase of items or services from cafes & restaurants, Hair & Beauty Centres/ Salons, alteration/delivery services & invoice sales. Promotion Vouchers are not redeemable against Chanel & Clé de Peau. Promotion is applicable at Isetan Scotts only from 27 – 9 Nov 2017. Other terms & conditions apply.

Be sure to claim your gift or exchange your coupon for the voucher by the 9th of November! Vouchers are valid until the 31st of December, 2017.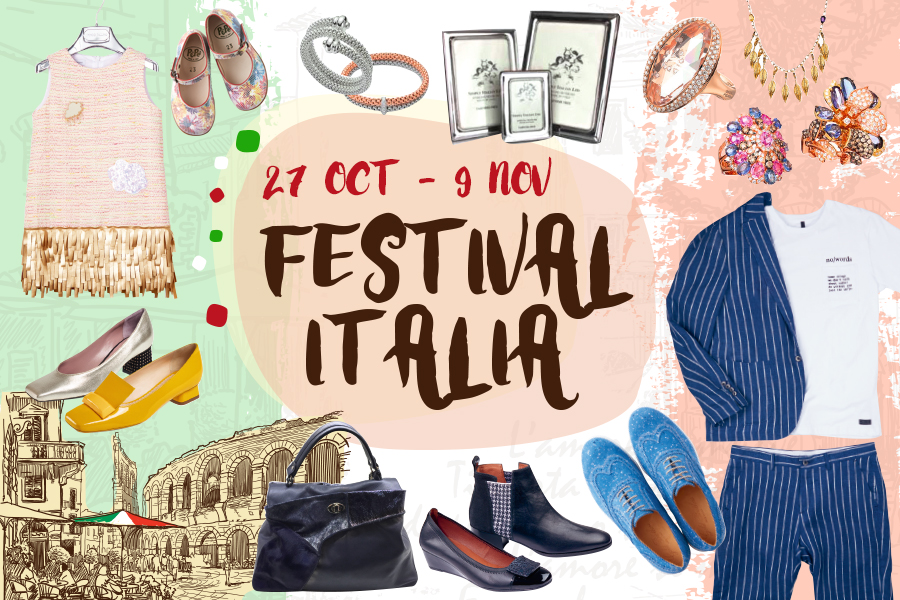 Instant Win
Excite your fans with multiple prizes and a game of chance. Will they win? That's the question!
You don't have to head to Las Vegas to try your luck. Our Instant Win app lets you set the odds of winning. Some entrants will win one of the available prizes, others won't be so lucky. Set up multiple rewards, the total number available, and the standard odds of winning each one. You can limit the amount of times a user can enter and even control the maximum rewards to be given out per day or per week to manage stock depletion.
Terms & Conditions

RMS & CONDITIONS

These Terms & Conditions ("T&Cs") are binding on all persons participating in this ("Activity") organized, conducted and operated by Isetan Singapore ("the Organiser") and eLife, Inc ("eLife)

A. ELIGIBILITY

Persons ineligible and excluded from this Activity are: (a) Employees of Isetan Singapore, their advertising; promotion agencies; (b) Affiliates and the immediate families (spouses, and parents, siblings, children and each of their spouses and household members) of each of (a); (c) Persons who are prohibited under the laws of their country of citizenship, residency or domicile from participating in any games of chance and/or skill, or this Activity.

B. ACTIVITY PERIOD

The time period for the Activity is from 26th October 2017 to 9 Nov 2017.
Any entry not received during the Activity Period shall be automatically disqualified from participation.
The Organiser is not liable for any delayed entries.

C. HOW TO ENTER

Participants are required to perform the following to qualify for the Activity:

Cast a vote and obtain Voucher Code
Go to Isetan Scotts and make a minimum purchase of over $100 SGD (Purchases must be made on regular priced items and all merchandise from Festival Italia, excluding purchases at Isetan Supermarket
The Voucher Code must be shown to the store staff
Participants must go to the redemption counter to obtain the rebate voucher

Any Entry not in compliance with the above and the Entry Requirements set forth in Section D below, and which does not meet the other requirements of the T&Cs, will be disqualified.
By entering, users understand and agree that their Entry may (at Organiser's sole discretion) be posted online for consumers to view on the Page or other Organiser-selected sites. The Organiser reserves the right to remove any posted Entry, in its sole discretion, even if the Entry has already been made available to the public.

D. ENTRY REQUIREMENTS

Participants must comply with registration instructions when submitting their Entry.
Participants and winners and those depicted in the Entry hereby grant Organiser, its affiliates and agents the absolute and irrevocable right to edit, adapt, modify, reproduce, promote and otherwise use their name, likeness, image, photograph, statements, biographical materials and Entries in any way Organiser sees fit, including without limitation for advertising or promotional purposes in connection with the Organiser's products, in any and all media now known or hereafter developed, worldwide, in perpetuity, without further notice or compensation.
Any Entry not in compliance with the above and which does not meet the requirements of these T&Cs will be disqualified.
By entering, participants agree to waive any rights (including but not limited to, moral rights) they may have to the Entry submitted.
Redemption of the special prize is at Isetan Scotts, Level 2, Italian Fashion Town Pop-up during the Italian Fair

E. WINNER SELECTION

The first 2,000 campaign participants will be awarded the 10% discount voucher code
From among the campaign participants, 100 people will be selected randomly and given a separate coupon each, with which they can use to redeem a free gift from Isetan Scotts, Level 2, Italian Fashion Town Pop-up during the Italian Fair.
The Organiser's decision on the winners is final.
The Organiser will announce the winners by an email sent to the email address that the campaign participants have entered in order to participate in the campaign.

F. PRIZE

The first 2,000 campaign participants will receive a 10% voucher rebate code with minimum $100 nett purchase and on every subsequent $50 nett purchase made on regular priced items and all merchandise from Festival Italia, excluding purchases at Isetan Supermarket at Isetan Scotts.
From among the campaign participants, 100 people will be selected randomly and given a separate coupon each, with which they can use to redeem a free gift from Isetan Scotts, Level 2, Italian Fashion Town Pop-up during the Italian Fair.
The Prize is not exchangeable for cash, credit or kind.
The voucher rebate code is not valid in conjunction with Isetan Cardmembers 10% rebate from 27 – 29 Oct 2017 and 10% direct discount for Isetan Cardmembers from 2 – 5 Nov 2017.
The rebate voucher, and not the rebate voucher code, expires on the 31st of December, 2017. The rebate voucher code expires on the 9th of November 2017.
By accepting the Prize, the winner agrees to release the Organiser and its affiliates, agencies, directors, officers and employees from any loss or damage arising from his/her use of the Prize.
The Organiser will not be responsible for any loss, claim or damage suffered or incurred in connection with the Prize and/or Activity (including but not limited to any error in computing any transaction, any breakdown or malfunction in any computer system or equipment).

G. GENERAL

The Organiser reserves the right to vary, amend, delete or supplement any of these T&Cs, at any time in its sole absolute discretion and without prior notice.
By entering and participating in this Activity, participants are deemed to have accepted the T&Cs unconditionally and shall abide by them.
Any information collected in connection with the Activity will only be used by the Organiser, its affiliates and agents for the purposes of marketing or administering this Activity and the provision of future promotions or publicity material relating to the products of the Organiser.
This Activity and the T&Cs shall be governed by Japanese law and each participant agrees to submit any dispute to the exclusive jurisdiction of the courts of Japan.

H. La Vida Campaign Platform

La Vida is operated by eLife Inc., Japan. La Vida allows users to receive Digital Coupons and Voucher Codes (referred to below as "coupons") to selected users (referred to below as "recipients"). The recipients are able to exchange their coupon for specified products and or a Rebate Voucher (Referred to below as "the prize") from specified stores (referred to below as "exchange stores").
"Terms of Use" refers to the contract between eLife and the user for using the Gratz! Service based on the La Vida Terms of Use. "Individual Contract" refers to the contract between eLife and the user regarding the issuance of coupons. In order to use La Vida, the user will undertake user registration by methods defined by eLife, and agree with the terms before completing their application to use the service.
Users are prohibited from sharing their La Vida password, and/or their social media application login details (Facebook Account/Twitter Account/LINE Account) with third parties, regardless of whether this is paid for or not.
eLife reserves the right to disable the user account, invalidate coupons and lottery wins in cases where users fail to comply with terms for La Vida, the Facebook, Twitter or LINE terms of use, or the Individual Contract (fictitious accounts, users registering with multiple accounts, impersonating other users, etc.). eLife will not be held responsible for any damages to users resulting from such actions.
eLife considers the action of clicking the "Redeem Coupon" button for a coupon to be an application to receive and use the La Vida coupons. In applying for a La Vida coupon, the terms are considered to be in effect.
The content, effect and usage of coupons are outlined in these terms and in the Individual Contract.
Coupons may only be exchanged for the prize described in the campaign details, and may not be used for other products, or at shops not listed as exchange shops.
Except for the situations listed below, the user may not redeem, return or exchange the coupon for products other than those specified as the prize.
・When the coupon is not redeemable due to the cessation of the La Vida services.
・When it is not possible to use the coupon due to system outages.
・Defects in the product, delays in receiving the prize or other issues with the prize must be resolved between the user, the recipient and the exchange shop.
eLife may not be held responsible for such issues. However, this restriction does not apply in cases where the issue is due to willful or gross negligence or on the part of eLife.
The coupon may be exchanged at an exchange shop during business hours up until the expiry date shown on the coupon.
The user uses the La Vida Service at their own cost and risk, on appropriate devices owned and operated by the user. eLife cannot be held responsible for issues with the operation of La Vida on users' devices. Additionally, eLife cannot be held responsible for the operation of La Vida and display of coupons on devices owned and operated by coupon recipients.
Users must not engage in fraudulent applications or false representations.
eLife cannot be held liable for any damages arising from the advertising by La Vida Clients (Campaign owners - brands). However, this restriction does not apply in cases of willful or gross negligence on the part of eLife. eLife will have no involvement in the actions of or messages posted by users. Any disputes between the user, recipient and exchange shop must be resolved by those three parties, and eLife and the campaign owners cannot be held responsible for such disputes.
Irrespective of the reason for the claim, in cases of direct damages caused by use of the system, eLife limits the amount liable in any dispute to JPY10,000 of damages. However, in cases of willful or gross negligence on the part of eLife, this restriction does not apply. eLife collects and uses personal information which is obtained from the user by a third party person in a manner that is in compliance to the laws and company regulations, asking for permission before collecting the personal information. eLife guarantees that any third party person's personal information will not be misused. Under no circumstances shall eLife, Inc. be liable for FOR INDIRECT, INCIDENTAL, CONSEQUENTIAL, SPECIAL OR EXEMPLARY DAMAGES (EVEN IF THAT PARTY HAS BEEN ADVISED OF THE POSSIBILITY OF SUCH DAMAGES) ARISING from a conflict between the user and the third party person.
To better understand how the La Vida service is being used, eLife collect access information from Google Analytics, which is provided by Google. Therefore, eLife uses Cookies that are provided by Google Analytics. However, eLife does not track individual users using the Google Analytics service.
eLife manages all information collected from Google Analytics in accordance to the Privacy Policy of Google Inc. Please check eLife's homepage to read about the Terms and Conditions and the Privacy Policy of Google Analytics. eLife will not be held accountable for any direct or indirect damages caused by Google Analytics.
・Google Analytics Service Agreement
・Google Policy and Principles
The La Vida service uses JavaScript in some of the pages. Some pages may not function or display properly if you do not activate your JavaScript settings from your browser settings.
eLife uses CSS (Cascading Style Sheets) when constructing some of the websites. To be able to properly display all sites on La Vida please activate CSS settings.

The above Terms and Conditions will take effect from October 26th, 2017

Privacy Policy

This "Privacy Policy" outlines the rules concerning the personal information collected from the La Vida service ("Personal Information"), the type of specific information collected, and how that information is used.
Information Use
eLife will not use users' Personal Information unless in cases where advance notifications are sent out, except in the following situations:

・eLife may use users' Personal Information to deliver products and/or campaign prizes.

・eLife may use users' Personal Information to notify users about events, campaigns and/or promotions that will be conducted.

・eLife may use users' Personal Information to provide users with coupons provided by La Vida or to answer any questions users may have concerning the La Vida service.

・eLife may provide users' Personal Information to our client ("Client"). La Vida may provide a client-based service ("Client-Based Service") based on our Client's request. In order for the user to be able to use the Client-Based Service, eLife may need to provide the Client with the users' Personal Information.


The following Personal Information that may be provided to the Client:

・Name
・Date of Birth
・Age
・Gender
・Address
・Phone Number
・E-Mail Address


The following are methods in which the Personal Information may be provided to the Client:

・In-writing
・Mail
・Internet


Should users not wish for their information to be shared with eLife's Client, they may opt out at any time by contacting eLife at privacy-infop@eLife.co.jp

Disclosure to a Third Party

Users may disclose all or part of their Personal Information to a Third Party to assist eLife with the management of La Vida
Users reserve the right to:

・Obtain information on how and why their Personal Information is collected or being used.

・Ask eLife to disclose how and why Personal Information is collected and being used.

・Have their Personal Information edited, revised, or deleted.

・Not have their Personal Information be used by eLife or shared by eLife, Inc. to a third party.


Users who have any requests with regard to their rights over personal information as stated above, please contact eLife through the following contact information:

[Contact Information]
2F Party Building 1-29-9 Sendagaya, Tokyo Japan
eLife, Inc.
Privacy Policy Help Desk
e-mail address: privacy-info@elife.co.jp


It is not mandatory to provide eLife, Inc. with Personal Information. However, there may be services and content in Gratz! that users may not be able to use should they not provide eLife, Inc. with their Personal Information.
eLife manages users' Personal Information according to the strictest standards and take the utmost care to prevent leaks, loss, or alterations by following the below standards.

Managing Personal Information

For safe and trusted use of La Vida, eLife instructs their executives and employees about laws and company regulations pertaining to personal information. eLife's company structure has been established, and includes measures for data security, ensuring maximum effort is put in for the appropriate management and use of each user's personal information.
eLife, Inc. will collect and use Personal Information in accordance with this Privacy Policy with the consent of the user.
eLife may disclose Personal Information to comply with any judicial or governmental subpoenas, warrants, or orders.
eLife reserves the right to use, disclose, and share information to investigate, prevent or take action with respect to any potential fraud, illegal activities, or circumstances which threaten the physical safety of any person, or which are in violation of this Privacy Policy, or as otherwise required by law.
To provide consulting services to eLife, Inc's Client's and/or to contact individual La Vida users, eLife may ask for users' Personal Information. It is not mandatory to provide eLife with Personal Information. However, by not granting La Vida access to their Personal Information, users may not be able to use and/or obtain content or receive any services provided by La Vida.
To protect user's Personal Information, eLife manages users' Personal Information in accordance to the strictest standards and take the utmost care to prevent information leaks, loss, or alterations. eLife ensures that board members and employees are properly trained in the appropriate handling of personal information to safeguard the security of information identifying individual customers.
From time to time, eLife, Inc may entrust its business operations to third parties, and the extent to which personal information may be disclosed varies according to the requirements. In these cases, eLife will implement all appropriate measures with such third parties to safeguard the confidentiality of customer data, including establishing agreements on the handling of such personal information.
Any user request submitted in the manner specified for 1)the disclosure, 2)the correction, deletion, or addition, or 3)the discontinuance and erasure of Personal Information held by eLife, Inc. shall be handled as follows, within a reasonable timeframe, after such requests are determined to be authentic. An user request may be rejected partially or entirely if compliance with such request would endanger the life, health, or property of the customer or a third party; seriously impact eLife, Inc.'s business operations; or result in a violation of laws or regulations.
Protection of Personal Information is secured using SSL (Secure Sockets Layer) encryption technology. This means that any information provided by users when using this site cannot be accessed by an unauthorised third person.
Continuous Improvement of "Privacy Policy" security system
eLife will strive to continuously train board members and employees regarding appropriate handling of information to safeguard the security of Personal Information that can potentially identify individual users.

First Edition: January 1st, 2004
Last Updated: October 17th, 2017
eLife, Inc. CEO Seiichiro Fujiwara